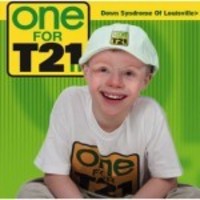 Louisville, KY (Vocus) May 11, 2010
One person can make a difference, one dollar at a time: that's the idea behind One for T21, a campaign to help build the nation's first lifelong learning center for people with Trisomy 21 (better known as Down syndrome). Launched one week ago in Louisville, Kentucky, OneforT21.com asks donors to give at least one dollar to help accrue the $1 million needed to build the new facility, which will serve as a template for similar centers across the United States.
Billed as "one dad's mission," the OneforT21 campaign was the idea of Scott Smith, the Louisville father of a child born with Down syndrome. Smith's son is the young boy on the website. Now 10 years old, he is one of 775 Kentuckiana children and adults served by Down Syndrome of Louisville, which provides educational, social and life skills training to people of all ages with Down syndrome and their families. The number of families the agency serves has grown 106 percent in just the last five years, leading to insufficient space and equipment to meet current needs and greatly reducing agency programming and impact for the future. With more space, the facility hopes to provide a wider range of services, from speech therapy for young children to job-search assistance for adults with Down syndrome.
Smith believes that if every person who hears about OneforT21.com makes a Paypal donation of $1 or more, Down Syndrome of Louisville will be able to make a difference for every family in his area touched by Down syndrome. He says, "Ten years ago, the terms Trisomy 21 or T21 were foreign to me. I'd heard of Down syndrome in passing, but had no idea how it affected individuals or families. That all changed in an instant in 2000, when my son was born. I had no idea how blessed I was about to be, or how Down Syndrome of Louisville would be there for our family every step of the way, confronting every challenge and celebrating every victory."
The Down Syndrome of Louisville lifelong learning center will be the first of its kind in the nation and will serve as a template for facilities in other cities around the country. Down Syndrome of Louisville's executive director Diana Merzweiler says, "The new lifelong learning center will allow us to provide enhanced services to all our members from birth to late adulthood, and allow us to fulfill our mission of improving the lives of people with Down syndrome and their families. We want to help all individuals with Down syndrome reach their full potential."
To learn more about the One for T21 movement or to make a secure donation, please visit http://www.OneforT21.com.
###