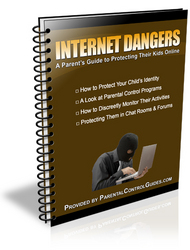 It is a parent's responsibility to protect their children
Oklahoma City, OK (PRWEB) August 29, 2008
Parental Control Guides, a leading resource for parents to review parental control programs and Internet monitoring software, today announced the release of a free report for parents entitled "Internet Dangers: A Parent's Guide to Protecting Their Kids Online". The report is available for download in Adobe PDF format on the company's website at http://parentalcontrolguides.com/free-parental-controls/.
The report covers how parents can protect their children's identity while online, how parents can discreetly monitor their children's computer activities, how parents can use free parental controls tools built into Windows XP and Vista, how parents can protect their kids in chat rooms, public forums and social networking sites like MySpace or Facebook and a look at the features of some popular premium parental control software.
Jason Keith, managing editor of the Parental Control Guides, said that it is equally important for parents to safeguard their children's online activities, as it is to protect them from everyday dangers.
"It is a parent's responsibility to protect their children," said Keith. "This does not mean just from local dangers such as crossing the street and not talking to strangers, but it also includes protecting them from remote dangers such as protecting them from Internet predators and cyber bullies on the computer or cell phone."
Keith said the website's management team decided to develop this free report to increase awareness to parents on their responsibilities for teaching their kids how to be safe online and how to handle cyber bullying.
"Kids today face a lot of social challenges and dangers that their parents did not face growing up due to this age of technology", said Keith. "It used to be that a child's home was his or her refuge against bullies. However, nowadays with so many preteens and teens having their own cell phones and computers, cyber bullies can impact a child's psyche in the home as well."
The report educates parents on the concept of cyber bullying and gives tips on how parents can help their kids cope with these issues. It also gives parents signs to watch for and ideas for monitoring their kids' online activities to see if they are victims of cyber bullying.
Parental Control Guides is a popular resource for parents to learn about protecting their children online and to read reviews of the leading parental control software and computer monitoring programs such as WebWatcher, Spector Pro, IamBigBrother and the world famous Net Nanny. Parents interested in learning more about parental control options, Internet monitoring and filtering software or the best software available should visit http://ParentalControlGuides.com today.
###