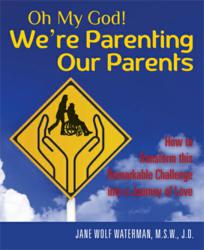 Eventually, everyone will need this book... - Dr. Paul Hokemeyer, The Dr. Oz Show
Los Angeles, CA (PRWEB) April 24, 2013
Mother's Day 2013 is approaching, and thanks to medical and technological advances, today's mothers are living healthier, and happier, and longer than ever before. Society is presented with a new and daunting paradox: although our parents may now live into their 80s, 90s or longer, science has not yet found a way to provide them with healthy minds and bodies into these latter years.
Near the end of their lives, many seniors will experience significant physical or mental deterioration. They are likely to become increasingly dependent and incapable of living as they once did. At this point, their families have important decisions to make regarding their care.
This is a rapidly growing issue in the United States. According to reputable sources:

Jane Wolf Waterman's new book, "OH MY GOD! WE'RE PARENTING OUR PARENTS: How to Transform this Remarkable Challenge Into A Journey of Love" is designed to help people resolve the numerous knotty issues anyone with aging parents will need to face, ones often ignored for far too long.
Sharing the wisdom and experiences garnered from her decades as a geriatric therapist, family coach, and practicing attorney, the book also tells a compelling story of the author's ten years parenting her own mother and father. People who have begun caring for their elderly parents -- which the author calls "Parenting Our Parents" (aka: "POP") -- know they are in desperate need of help.
"If we contrast Parenting Our Parents with parenting our children, "POP" has almost no guidelines, is far more complex and may last many years longer," Jane stated recently. "In spite of feeling overwhelmed with responsibility, isolated and alone, those doing "POP" are anything but alone. It's been said that raising a child takes a village; I say that doing "POP" takes a community. Millions are POParenting today and many more are joining in this POP community every single day."
Enter this book, which ironically enough, is one of a kind, as there is very little in current media that presents this point of view or this information. It was written to assist fellow POParents understand and navigate the "POP Cycle," the newly-recognized stage of life when parents and adult children "reverse their roles."
Ms. Waterman has simultaneously founded a new interactive global community, the POP community. Located at http://www.ParentingOurParents.org, it brings together the crazy quilt elements needed by POParents -- support from a community-based blog, information about the "POP" stages, updated resources, help making critical "POP" decisions, and advice from Jane.
Ms. Waterman earned her J.D. at Boston University School of Law, her M.S.W. from UCLA's School of Social Welfare and her "POParenting Certification" during the ten years she parented Jack and Lillian Wolf.
Here in time for Mother's Day, usable every day of the year, the book is available at booksellers and libraries across the country as well as online. For a limited time those joining the POP Community also will receive a free audio excerpt read by the author.
For more information or to schedule an interview with Jane Wolf Waterman, M.S.W., J.D. please email: press(at)parentingourparents(dot)org.