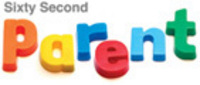 Providing parents with practical, relevant and timely information is more important than ever in today's society
Asheville, NC (PRWEB) September 25, 2008
Sixty Second Parent is a platform that connects parents with knowledgeable experts in the fields of Child Health, Child Development and Practical Parenting. This website is being launched by nationally acclaimed pediatrician Dr. Olson Huff MD, after recognizing a need for a clear and easy way for parents to access easy to understand professional parenting advice that can be trusted. Dr Huff acknowledges there is really no such thing as a 'Sixty Second Parent', that caring for children is a full time job. However, by visiting Sixty Second Parent, parents will be able to learn new tips and strategies to support their family.
"Providing parents with practical, relevant and timely information is more important than ever in today's society," said Dr Huff.
Along with practical parenting tips and information, site visitors will have access to reviewed products in the online store, ask questions of an online panel of early childhood specialists and participate in online parenting forums. In addition to the 24 hour support offered by the site, parents can receive a copy of the monthly newsletter packed with practical information from leading experts in the areas of parenting, child health and development. September's issue includes an article on childhood obesity and four key strategies to combat this growing health risk, written by Robert P. Schwartz, MD from the Department of Pediatrics, Wake Forest University School of Medicine, NC.
With 4 million new mothers in the US every year, Sixty Second Parent is uniquely positioned to provide the best online information and products for parents.
Olson and his son, technology entrepreneur Steve Huff, have assembled a world-class team at Sixty Second Parent to address the needs of babies, toddlers, children and their parents. Parents have the opportunity to get answers and interact with specialists and other parents through an online forum. They can access parenting tips and recommended products and share these with friends across the web including Facebook or Myspace.
Sixty Second Parent, is an online business committed to providing the highest quality parenting information and products to parents across the US. For additional information email us at media@sixtysecondparent.com
Sixty Second Parent, is an online business committed to providing the highest quality parenting information and products to parents across the U.S.
About Sixty Second Parent:
Sixty Second Parent is a website that offers a unique and fresh approach to obtaining practical parenting advice. Sixty Second Parent understands that the expectations and pressures put on parents today are more complex than ever before and recognizes the need for a simpler support system for parents and families.
As part of the solution, Sixty Second Parent has brought together the world's leading experts in child development, child health and parenting to provide sound practical parenting information within an online community network.
Sixty Second Parent intends to provide parents-to-be, young parents and grandparents with information, enjoyment, and connection into a like-minded community via a user-friendly web platform. This community gives parents the information they need, as well as reassurance in their actions, and guidance in interactions with their children.
The online support network is designed to link parents and families with industry specialists and other parents along with an online parenting store offering the best in early childcare resources.
###