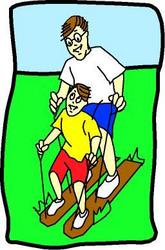 This was the first time in a long time that we really played and talked with each other.
Winston Salem, NC (PRWEB) September 23, 2010
For the past decade, hundreds of parents and children have improved their relationships through attending Parent-Child Retreats. In celebration of this ten year anniversary, all organizations will be able to receive 20% off any retreat scheduled before December 31st, 2010.
Parent-Child Retreats create meaningful moments for families to really listen to each other and share favorite memories, heal past pains, and create fun plans for future adventures together. Many families get so caught up in the daily hustle and bustle of life's tasks that they forget the importance of life in the first place--nurturing one's family.
When parents didn't grow up in especially nurturing families themselves, they are often at a loss for what to say to their children or even how to play with them. Parent-Child Retreats provide a safe and structured environment for families to share feelings, thoughts, life experiences and play together.
Participants enjoy bringing their photo albums and taking some time to remember past experiences together--they also enjoy getting free pictures to update their albums with their silly faces and laughter from the retreat.
During the activities, partners play together to explore a topic on a deeper level than words alone can access. For example, when partners first attempt to walk in unison on "Buddy Boards," they experience the frustration of being out-of-synch. When people feel frustrated, they can choose to be rushed, impatient and mean or they can choose to be patient, loving and encouraging. The activity is an example of what can we do under pressure. But more than just an activity, partners follow-up with a conversation to encourage more compassion during conflict instead of being combative. Once child shares that he feels rushed every morning when going to school, while his parent yells to "Hurry up." Without being in the emotional moment of conflict, they were both able to generate a fun solution to their morning problem. His alarm would be set for 15 minutes earlier to give him a warning to wake-up and she would turn on his favorite music when she entered to greet him.
Schools, churches, neighborhood associations, colleges, libraries, and businesses have found that Parent-Child Retreats are worth the emotional investment. When families feel more loved, they will know what to do in conflict and similarly resolve conflict at work and school in more peaceful ways.
###