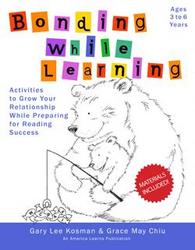 Los Angeles, CA (PRWEB) December 13, 2007
Did you know that you can help young children learn to read while building snowmen with them? It's true, and it's easy to do.
Gary Kosman and Grace May Chiu, the award winning authors of "Bonding While Learning," are providing parents with free, snow-play activities to help young children learn to read and write while strengthening the parent-child relationship. The imaginative activities help younger children learn their letters by building snowmen and help older children practice spelling by "painting the snow" with materials families already have at home. Parents and grandparents can download the free literacy activities from the "Bonding While Learning" website.
Given the extraordinarily positive response that Kosman and Chiu's newest book, "Bonding While Learning," has received from parents, grandparents, preschools, elementary schools and home schools worldwide in the first months since its release, the authors decided to celebrate that success by creating these wintertime activities that families living in snowy areas can use to make learning time quality family time as well.
"Parents and grandparents love 'Bonding While Learning' activities because the activities have a major focus on relationship building, are written as easy-to-follow recipes, are fun to do, and take little time to prepare," said Kosman. "'Bonding While Learning' activities give young children an opportunity to learn while participating in meaningful, memorable, family moments."
Earlier this year, iParenting Media Awards, one of the most prestigious award programs for parenting products, honored "Bonding While Learning" by naming it an "Excellent Product of 2007." Aside from receiving positive reviews from the parenting and education communities, in his newest book, "Giving: How Each of Us Can Change the World," former President Bill Clinton recognizes Kosman's efforts of working to ensure that every child develops the literacy skills needed for academic and lifelong success.
For Review Copies & Permission To Print The Wintertime Activities In Your Online or Print Publication:
Gary Kosman
CEO, America Learns
310-689-0542
About America Learns, Bonding While Learning's Publisher
Los Angeles-based America Learns is a global educational performance and accountability firm reaching more than 20,000 students worldwide. The company's flagship service, the America Learns Network, helps organizations to simultaneously collect their educators' best practices from the field, share those strategies with educators as soon as they need them, and measure educators' performance. Organizations using its services include universities (e.g., Dwight Hall at Yale, Duke University, UC Berkeley, Georgetown, and the University of Michigan), community-based nonprofits, after-school programs, and school districts (e.g., the Chapel Hill-Carrboro City Schools and the Minneapolis Public Schools). The company also creates and publishes high quality, meaningful, stress-free learning resources for children that are steeped in relevant research and practice. Learn more at http://www.americalearns.net or by calling 310-689-0542.
###