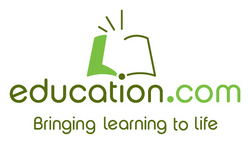 From marble magic tricks, to egg-carton creepy crawlies, to toffee-science, parents are using our hands-on activities to have fun learning with their kids and to support what's happening in their children's classrooms
Redwood City, CA (Vocus) September 26, 2009
Education.com, a leading web destination for parents of school-aged children, announced today it is hosting a contest that gives parents and other caregivers a chance to win prizes for submitting photos of Education.com activities they complete with their children. During the 100 days of the contest, Education.com will select and showcase 100 winning photos. Prizes include children's guitars from BerkeleyWind.com; Kenny Loggins' new family CD, "All Join In"; and a grand prize package which includes a $500 gift certificate to Shutterfly, the leading online photo service, and a $250 cash prize from Education.com.
"From marble magic tricks, to egg-carton creepy crawlies, to toffee-science, parents are using our hands-on activities to have fun learning with their kids and to support what's happening in their children's classrooms," says Education.com Editor-in-Chief Danielle Wood. "The Activities Photo Contest gives these parents a chance to showcase the fantastic projects their families are creating together. And we think when other Education.com parents see the photos members submit for this contest, they'll be inspired to try some new activities with their own families."
Education.com has thousands of activities, which are free and organized by subject and grade level, for participating families to choose from. Each activity takes anywhere from ten minutes to several hours to complete, and most activities require basic materials that families will either have on hand, or can pick up easily and inexpensively. There is no charge to access Education.com's activities or to participate in the Activities Photo Contest.
To participate in the contest, Education.com members must register for the contest, then upload photos of activities that are either in-progress or completed. While photos must be submitted during the contest dates of September 23rd to December 31st, 2009, the photographed activities may have been completed at any time. The 100 winning photos will be chosen both on the overall quality of the photo and on how effectively it demonstrates the activity. Eligible photos not selected as winners will qualify for one of 50 participation prizes Education.com will award to randomly-selected participants at the end of the contest. Participants may upload new photos each week for more chances to win.
Click here for more information about Education.com's Activities Photo Contest, including complete contest rules.
About Education.com
Nearly 1.5 million parents a month come to Education.com to get the information they need to support their children's unique educational and developmental needs, and to find ideas for how to make learning more fun. From kindergarten readiness to college prep, Education.com is the leading destination for involved parents. Often called "The WebMD of education," the company has teamed up with leading universities, nonprofits, and research organizations to offer highly credible parenting, developmental, and educational information. The site also offers printable activities, community resources, access to best-of-breed educational services, and SchoolFinder - a tool that gives parents comprehensive data on the nation's 125,000 public, private and charter schools. Education.com was founded in 2006 and is headquartered in Redwood City, CA. The company is backed by leading venture capital firms, Azure Capital Partners, TeleSoft Partners, and California Technology Ventures. For more information, please visit http://www.education.com.
Media Contact:
Kat Eden
Education.com
(650) 366-3380 X 2218
# # #