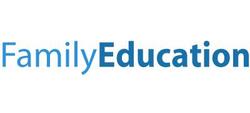 It is exciting to have our parenting site recognized by SIIA as one of the top online consumer information services.
Boston, MA (PRWEB) February 26, 2008
FamilyEducation.com is a finalist in the Software & Information Industry Association's (SIIA) 23rd Annual CODiE Awards. The popular parenting Web site was recognized in the Best Online Consumer Information Service category.
FamilyEducation provides family information and advice for parenting babies, toddlers, elementary-aged children and teenagers. Through educational printables, games for children, activities for babies & toddlers, parenting ideas, tips, family advice, school help by grade (K-12) and more, FamilyEducation helps parents raise happy, healthy children who thrive in school and in life.
"For nearly a decade, FamilyEducation has been the Web site that parents turn to when they need information to help them as they deal with the important and, at times, difficult job of raising happy, healthy children," said Jess M. Brallier, publisher, FamilyEducation. "It is exciting to have our parenting site recognized by SIIA as one of the top online consumer information services."
The first parenting advice Web site on the Internet, FamilyEducation is the Internet's most visited site for parents who are involved, committed and responsive to their families' needs. Parents turn to FamilyEducation for educational printables and games for children of all ages, easy healthy recipes and information on topical subjects, such as children's product and toy recalls. Using the site's Name Lab, parents can search for the perfect name for a new baby or learn about the history, meaning and origin of their family name. On FamilyEducation's Family & Parenting Message Boards, parents share parenting ideas and tips on topics ranging from coping with children with learning disabilities to choosing television shows and movies for kids to watch.
On FamilyEducation's age-specific resource sections, parents will find all of the information they need to support them from before their children are born through the teen years. For new parents and parents of young children, FamilyEducation offers advice on everything from pregnancy to dealing with the terrible twos. Parents will find tips for potty training, traveling with a baby and how to select the perfect pet for a growing family.
When children become school age, FamilyEducation is right there as a supportive parenting resource. They will find advice for their children's elementary, middle and high school education, activity and craft ideas for family fun, and valuable parenting tips for raising good kids.
FamilyEducation also offers a wealth of resources to help parents navigate the teen years. They can turn to the Web site to get help dealing with issues such as teen dating, applying to college and helping their teens learn how to budget and manage money.
Established in 1986, the CODiE Awards celebrate outstanding achievement and vision in the software, digital information and education technology industries. Through a unique combination of journalist and peer review, the CODiE Awards recognize 68 categories of outstanding products and services. This year's finalists represent an impressive array of technology and business excellence, passion and success. They were chosen from more than 1,100 nominations, submitted by more than 600 companies.
"Competition is tough this year and that makes selection as a CODiE finalist a real achievement," said Ken Wasch, SIIA president. "All the companies on this year's list should feel justifiably proud of their recognition."
In the next step of the CODiE Awards process, SIIA members will select winners in each category. The 2008 CODiE Awards will be presented on May 20 at the CODiE Awards Gala at the Palace Hotel in San Francisco.
About FamilyEducation:
FamilyEducation is the leading online publisher of practical parenting guidance, expert family advice, skill-building printables, exercises and activities for children. FamilyEducation.com is dedicated to educating parents and parents-to-be so they can raise healthy, educated and well-rounded children.
FamilyEducation is part of Pearson, the world's largest integrated education company. Pearson's other primary operations include the Financial Times Group and the Penguin Group.
###