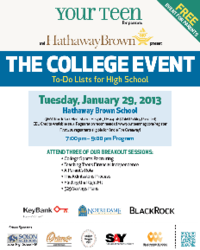 We've lined up top experts who will get the right information in the hands of parents
Beachwood, OH (PRWEB) December 31, 2012
Parents who are anxious about choosing the right colleges for their teens can get help on Tuesday, January 29, 2012 during "The College Event: To-Do Lists for High School."
Your Teen Magazine, a multimedia publication with practical advice for raising teenagers, is presenting the educational program from 7 to 9 p.m. at Hathaway Brown School, 19600 North Park Blvd., Shaker Heights, OH 44118 (valet parking provided). CEU credits are available ($10).
Register today for the free event:
http://www.yourteenmag.com/register
The first 200 registrants are eligible for a Kindle Fire Giveaway (must be present to win).
Attend three of the breakout sessions:

College Sports Recruiting
Teaching Teens Financial Independence
A Parent's Role
The Admissions Process
Finding the Right Fit
529 Savings Plans
"We know parents have many concerns about the choices they will make with their teens," Editor in Chief/ Publisher Susan Borison says. "With this program, we've lined up top experts who will get the right information in the hands of parents."
Your Teen Magazine offers many print and online high school and college resources for parents. For example, "Beginning the College Search Process," covers:
Resources with data on over 2,000 of the 4-year colleges and universities in the United States
College selection factors
Faculty trends
Merit aid
Michelle Kretzschmar, founder of DIYCollegeRankings.com, outlines methods and resources.
"Once you have the data in a spreadsheet, you can look for colleges where your student will be in the top quarter of applicants, so they'll have a better chance of getting merit aid," she explains. (Note that not every college offers merit aid. In fact, the most exclusive colleges typically don't provide any.)
Learn more:
http://yourteenmag.com/2012/12/beginning-the-college-search-process
About Your Teen Magazine for Parents:
Your Teen addresses the challenges inherent in raising teens and helps parents to continue the journey toward the goal of successful parenting. In the magazine format, parents can pose questions, offer personal tactics and hear the different perspectives of professionals, other parents, and teenagers on relevant topics. Your Teen hopes to ease the worry.
Your Teen is available in Barnes & Noble.