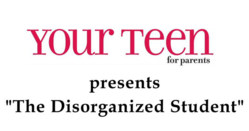 We must strive to impart tools and systems that will help these kids succeed.
(PRWEB) September 13, 2012
"The Disorganized Student" video is now available online for free at Your Teen Magazine for parents and teachers who want to help teenagers and other children get organized and be successful in life.
Highlights of the panel discussion (eight minutes), "The Disorganized Student" can be viewed for free here:
http://bit.ly/disorganized-student
Your Teen Magazine for Parents and the Tree of Knowledge hosted the event (held earlier this year at The Ratner School in Pepper Pike, Ohio) that included top experts and real-life accounts of students who struggle with basic responsibilities, including homework, test preparation, remembering to take textbooks home and more.
Panelists included:

Dr. Michael J. Manos, Ph.D., head of the Center for Pediatric Behavioral Health at Cleveland Clinic, Cleveland, Ohio
Christine Barry, Ph.D., pediatric neuropsychologist at University Hospitals, Cleveland, Ohio
Jason Culp, head of Upper School at Lawrence School, Sagamore Hills, Ohio
Lee Akhar, parent of a son with ADHD
"Watching our children fall short of our expectations can be frustrating and, at times, infuriating," Editor-In-Chief/Publisher Susan Borison says. "But when an expert explains that these deficiencies are, for the most part, unintentional and that most kids don't want to disappoint their parents or teachers - then we must strive to impart tools and systems that will help these kids succeed."
The wide-ranging discussion covered many factors and potential long-term solutions, including:
Parents and teachers must understand how teenagers and other students learn.
In order for an interventional strategy to be effective, the student must buy into it.
Parents and teachers must be the primary change agents; children can adapt when adults take the initiative to make changes.
Parents and teachers must promote self-esteem with encouragement and acceptance.
And defining the problem will make a huge difference for your teen. "These are the things you struggle with and … there is a reason for it. It's not you being broken or you being a problem," Culp shares on the video. "It's simply the way that you are and the way you are wired."
About Your Teen Magazine for Parents
Your Teen addresses the challenges inherent in raising teenagers and helps parents to continue the journey toward the goal of successful parenting. In the magazine format, parents can pose questions, offer personal tactics and hear the different perspectives of professionals, other parents, and teenagers on relevant topics. Your Teen hopes to ease the worry.
http://yourteenmag.com
About Tree of Life Learning Centers
Tree of Life Learning Centers offer psycho-educational services to children who are at risk academically and/or physically s they can achieve success and develop hope for a rewarding life.