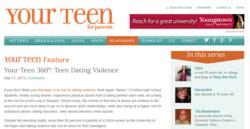 Parents ... will have a better opportunity to guide their teenagers into healthy relationships.
Beachwood, OH (PRWEB) May 29, 2013
Abusive relationships is the focus of Your Teen 360°, a special report from Your Teen Magazine for parents of teenagers.
Your Teen Magazine created Your Teen 360° to offer parents multiple perspectives from teenagers, parents and experts.
The series, "Your Teen 360°: I Was in an Abusive Relationship," notes the dramatic number of teens enduring abusive relationships.
According to a report from Love Is Respect, a non-profit organization, nearly 1.5 million teens experience some sort of physical abuse from their partner every year. What's worse, the abuse goes unreported, which can lead to issues for the abuser in dealing with adult relationships later on in life.
Despite these numbers, an alarming 80% of parents surveyed in 2004 didn't think dating violence was an issue for their child.
The report includes views from those involved in an abusive relationship: Mary, Cara and Alexandra. In addition, this article includes views by Tim Boehnlein, associate director of the Domestic Violence Center in Cleveland, Ohio.
View the report here:
http://yourteenmag.com/2013/05/teen-dating-violence-2/
"We believe that when parents have information about the complexities of teen dating, they will have a better opportunity to guide their teenagers into healthy relationships and will be better equipped to identify red flags in an unhealthy situation," Editor in Chief/Publisher Susan Borison says. "This special Your Teen 360° report provides valuable insights that will prompt honest discussions about the sensitive topic."
Here is a brief summary:
Mary:
She was in a relationship that was so physical in nature to the point of where she looked forward to getting hit. She had low self-esteem since she thought this was the only type of relationship she would ever be in. She became conditioned to be silent, worried that when she spoke, he would insult her or make fun of her. Like most people involved in an abusive relationship, she thought she deserved the abuse and that she was the one in the wrong.
Cara:
She met a boy at 15 and they became friends. The friendship turned romantic and everything changed. Her friend turned boyfriend became manipulative and controlling. He began to isolate her from everyone else in her life. This started a devastating cycle of make-up/break-ups that left her with no voice in the relationship. Break-ups led to incessant texts with him begging for her to take him back.
Alexandra:
She met her abuser (a friend of a friend) online at the age of 19. The relationship started with harmless chatting on AOL about her struggles in school. The online conversation led to an in-person meeting with him offering to help her with homework. At the outset, she had a bad vibe and decided this would be the last time she'd see him. He had left his coat at her place and when he came to pick it up, she told him that she didn't want to see him anymore. He was persistent and she gave him a second chance. Looking back, she recognized that moment as the start of his dominating nature in the relationship.
Professional Tim Boehnlein:
When a relationship goes from a two-way street to abusive, it typically is transformed by jealousy on the part of the abuser. Jealousy is a normal part of the relationship, but as time goes on, jealousy should develop into trust. However, if jealousy lingers, it can manifest into controlling behaviors. These can lead to ultimatums on the part of the abuser or forcing isolation of the victim away from family or friends. Teens need to understand the characteristics of healthy relationships.
About Your Teen Magazine:
Your Teen addresses the challenges inherent in raising teens and helps parents of teens to continue the journey toward the goal of successful parent. In the magazine format, parents can post questions, offer personal tactics and hear the different perspectives of professionals, other parents and teenagers on relevant topics. Your Teen hopes to ease the worry.
Your Teen is available in Barnes & Noble.