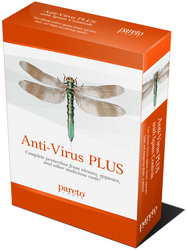 We are very proud and excited to launch ParetoLogic Anti-Virus PLUS, which features progressive virus protection. However, this sophisticated software protects you from more than just viruses
Victoria, B.C. (PRWEB) June 13, 2008
Already known for its superior anti-spyware technology, ParetoLogic is now bringing its innovative approaches to virus protection.
The leader in online safety is pleased to release ParetoLogic Anti-Virus PLUS. Utilizing progressive technology, this product scans deeply for and quickly removes all forms of viruses. Going a step beyond the norm, ParetoLogic Anti-Virus PLUS also eradicates spyware, adware and even rootkits, which try to cover up dangerous malware. In short, it is a complete protection solution.
"We are very proud and excited to launch ParetoLogic Anti-Virus PLUS, which features progressive virus protection. However, this sophisticated software protects you from more than just viruses," said Yida Mao, ParetoLogic's Vice President of Technology & Product Development. "It also uses our anti-spyware technology, which has made us one of the leaders in the industry. This makes ParetoLogic Anti-Virus PLUS powerful protection against a wide range of evasive threats."
The company is also thrilled to announce that ParetoLogic Anti-Virus PLUS has recently been checkmark-certified by West Coast Labs -- the esteemed independent research and test centre. The prestigious certification was awarded in three different categories: Anti-Trojan, anti-virus desktop and anti-spyware desktop
Viruses, spyware and other malware have long wreaked havoc with both personal and business computers. In 2006, the direct damage caused to businesses was $13.3 billion, according to the 2007 Malware Report: The Economic Impact of Viruses, Spyware, Adware, Botnets and Other Malicious Code. With computers playing a major role in our lives, few businesses or individuals can handle the downtime and expense caused by malware.
ParetoLogic Anti-Virus PLUS keeps your computer safe by vigilantly standing guard. For example, it blocks access to known malware related websites and warns you about incoming threats. As well, it protects you against threats in compressed files and the "drive-by-download," caused by malware located in scripts. ParetoLogic Anti-Virus PLUS also includes free database updates for the duration of your subscription to keep the latest threats at bay.
While ParetoLogic Anti-Virus PLUS puts advanced technology into your hands, you do not have to possess superior computer knowledge to use it. The program is easy to install and use as well as being customizable to your needs.
About ParetoLogic, Inc.
In 2004 four brothers recognized that modern computer users need not rely on computer repair technicians to maintain their own PC's. Knowing that sophisticated technology married with a truly user-friendly interface would empower people to secure and optimize their own computers, the brothers researched the marketplace to define and develop the software products that would most benefit today's computer user.
ParetoLogic now employs 105 professionals to help them research, develop, and market software applications that will enable people to secure and enhance their computing experience. Available in eight languages in 186 countries around the world, ParetoLogic has established partnerships on a global scale to ensure that its products are available to all computer users, regardless of location, language, or computing experience.
Attention to the needs of the consumer coupled with a commitment to delivering exceptional software applications and resource-rich websites guarantee that our products will exceed your expectations.
Contact:
Amanda Cooper, Communications Director
ParetoLogic Inc.
media @ paretologic.com
# # #