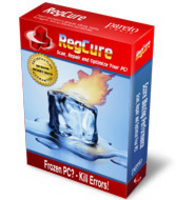 People are becoming sophisticated computer users and as such, they want to be able to troubleshoot their own computer problems. All they need is the right tool and within minutes they can be enjoying a computer that functions as if it were brand new
Victoria, B.C. (PRWEB) February 25, 2009
Finding that perfect software to fix registry problems can be a chore, but according to 60 million computer users, RegCure is up to the task. Users experiencing slow pc speed and poor performance have been turning to RegCure since its launch three years ago. Consistently ranking among the top selling registry cleaners online, the name RegCure has become synonymous with its task. Knowing that the registry is often at the root of a computer that is freezing, crashing, and displaying Windows errors, ParetoLogic, the creators of RegCure, are pleased to have assisted 60 million users in fixing their PC.
Ushering in a new era in computer optimization, RegCure stormed the software industry in 2006 and quickly became a favourite amongst computer users who demanded the utmost in speed and performance from their computers. Full featured enough for highly technically savvy individuals, the software has also been designed for extreme ease of use for even the most novice of computer users. The subject of countless media interviews and articles, the software's broad appeal is no surprise to Gregory K. Amlin, Vice-President of Product Management at ParetoLogic. "People are becoming sophisticated computer users and as such, they want to be able to troubleshoot their own computer problems. All they need is the right tool and within minutes they can be enjoying a computer that functions as if it were brand new," comments Amlin.
About ParetoLogic, Inc.
In 2004 four brothers recognized that modern computer users need not rely on computer repair technicians to maintain their own PC's. Knowing that sophisticated technology married with a truly user-friendly interface would empower people to secure and optimize their own computers, the brothers researched the marketplace to define and develop the software products that would most benefit today's computer user.
ParetoLogic now employs 140 professionals to help them research, develop, and market software applications that will enable people to secure and enhance their computing experience. Available in eight languages in 192 countries around the world, ParetoLogic has established partnerships on a global scale to ensure that its products are available to all computer users, regardless of location, language, or computing experience.
Attention to the needs of the consumer coupled with a commitment to delivering exceptional software applications and resource-rich websites guarantee that our products will exceed your expectations.
###