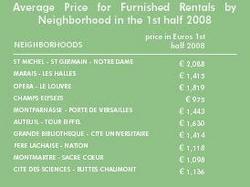 Reading this report is certainly insightful in this time of economic uncertainty
New York, NY (PRWEB) January 27, 2009
The 2008 1st half Furnished Apartment Rental Market Report, compiled by New York Habitat, takes an in-depth look at the conditions in the Paris furnished apartment rental and Paris vacation rental markets. The report is suited to investors, apartment owners and people looking for accommodation in Paris. The report provides details, which can help to determine apartment pricing, where to stay and more.
Some conclusions of the report are that:
•Paris continues to be an attractive destination, which has helped to keep prices and number of rentals stable even with a strong euro
•The number of available offerings continues to climb as the number of people offering short term rentals continues to grow because of favorable tax laws
•The continued slowing of the world economy will likely hurt rental prices and apartment demand in the 2nd half of 2008 and into 2009
The 2008 1sh half market report as well as all previous reports are available in PDF format on the Paris Furnished Apartment Market Report webpage. This site contains a record of all Paris Market Reports published by New York Habitat. My information about the Paris market as well as apartment rental tips and company information is available on New York Habitat's Blog.
The 2008 Paris Furnished Apartment Market Report focuses on offering up-to-date information based on rentals in the period. There is also a comparison of the previous two 1st half years. The market report includes data on the following topics
•Rental Price by Neighborhood
•Average Length of Stay
•Average, Median and Mode prices of Rentals
•And more
Presented here is a sample table that shows the average rental price of furnished apartments by neighborhood in Paris. More detailed versions of this table as well as dozens of other graphs, charts and tables are available in the full report. "Reading this report is certainly insightful in this time of economic uncertainty," says report creator Brian Lowenberg. He goes on to say, "With market conditions continuing to evolve in Paris as well as around the world, having timely information can help with planning an investment in Paris or just arranging a trip to Paris."
New York Habitat has 2 decades of experience in the furnished apartment rental market, specializing in rentals in New York, Paris, London and the South of France. The company is a fully licensed real estate broker. They have offered rentals in Paris since 1996. The company's success comes from its dedication to customer service, which includes one of the 1st customer service teams in the industry as well as a team of agents that not only care about their clients but are knowledgeable about the apartments and cities they represent. New York Habitat strives to connect people and apartments through its rental service. Click here to view our Paris Apartment offerings.
We invite you to contact New York Habitat for more information about the market report at (212) 255-8018. We would be happy to hear your suggestions, comments and questions about the report and will continue to provide up-to-date reports in the future so that you will always be on top of the latest news in the Paris Furnished Apartment Rental Market. If you need help with any of our services including, renting an apartment, listing an apartment, corporate relations or student housing e-mail us at info (at) nyhabitat.com.
###