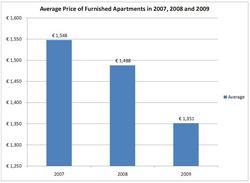 "Though there has been a slowdown in demand for vacation rental apartments and furnished apartments due to the recession, the long term trend for the Paris Furnished Apartment Market remains positive."
New York, NY (PRWEB) April 16, 2010
The 2009 2nd half and full year Paris Furnished Apartment Market Report from New York Habitat contains the latest information about Furnished Rentals in Paris. The report provides information from 2007, 2008 and 2009 for comparison purposes. The report includes data on apartment prices, neighborhoods, types of rentals and more.
Some conclusions from the 2009 Paris Furnished Apartment Market Report include:

The recession continued to affect the Paris market. Both prices and the number of rentals fell in 2009.
A unpredictable euro conversion rate made people more cautious about traveling to Paris
People were more prudent when booking accommodations and often chose less expensive studios over more expensive 1-bedroom apartments.
This report contains graphs, data and charts on the Paris vacation rental and Paris furnished apartment markets for the 2nd half and full year of 2007, 2008 and 2009. All Paris Furnished Apartment Market Reports can be found on the Paris Furnished Apartment Market Report website.
Some of the key information provided in this report includes:
Average price of vacation rentals per night
Average price of furnished apartments by month
Average length of rental for vacation rental and furnished apartments
And more
The graph included in this release is an example of the information provided in the report. The graph seen here is average price of Furnished Apartments in Paris in 2007, 2008 and 2009. In the report there are many other graphs that help to explain the current Paris market.
"Paris remains the driving force in the tourism industry in France and as a result Paris is one of the top destinations for tourists in the world," says market report creator Brian Lowenberg. He goes on to say, "Though there has been a slowdown in demand for vacation rental apartments and furnished apartments due to the recession, the long term trend for the Paris Furnished Apartment Market remains positive."
The 2009 2nd half and full year market report as well as all previous reports are available in PDF format on the Paris Furnished Apartment Market Report webpage. The New York Habitat blog is a great location for the latest news and tips about the Paris apartment market and is update on a daily basis.
New York Habitat has 2 decades of experience in the furnished apartment rental market, specializing in vacation rentals, like this Paris 1-bedroom accommodation (PA-2509) and furnished apartments like this Paris 2-bedroom rental (PA-3007) in New York, Paris, London and the South of France. The company is a fully licensed real estate broker. The company has offered rentals in Paris since 1996. Though the recession has been tough on the Paris Furnished Apartment market, New York Habitat remains in a strong position to continue to grow. Our team of real estate professionals has weathered the storm of the recession and look forward to continuing to work with clients and apartment owners to rent apartments in Paris. Click here to view our Paris Apartment offerings.
We invite you to contact New York Habitat for more information about the Paris Furnished Apartment Market Report at +1 (212) 255-8018 or marketreport@nyhabitat.com. For help with any of New York Habitat's services including, renting an apartment, listing an apartment, corporate relations or student housing e-mail or call New York Habitat.
###