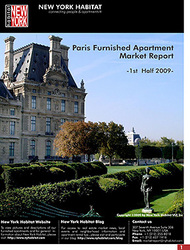 Keeping updated on the market is more important than ever
New York, NY (PRWEB) September 24, 2009
The 2009 1st half Paris Furnished Apartment Rental Market Report, compiled by New York Habitat, looks at the effects of the economic downturn that have occurred in Paris. The report provides details about the vacation rental and furnished apartment markets and has been designed to provide data to investors, apartment owners and those seeing apaartments and accommodations in Paris, France. The report provides details, which can help to know which neighborhoods are popular, what pricing trends are and how long apartments are being rented for.
Some conclusions of the report are that:
•The current market in Paris, France is weak. The number of tourists and business travelers coming to Paris is down and this had caused prices to be weak as well
•The strong Euro continues to make Paris expensive for people outside of the EU
•The global recession has changed the spending landscape across the globe which
will keep expenses on travel at lower levels into 2010
The Paris Furnished Apartment Market Report website is the central resource to find all of the Paris reports New York Habitat has released. The 2009 report is available there as well as all of the bi-annual reports back to 2007.
The 2009 Paris Furnished Apartment Market Report brings the latest information to the table and helps readers to understand the current market situation. In the report, there is information on this half plus the previous two halves for comparison. Information about previous years can be found n the 2007 and 2008 1st half market reports. This year's report focuses on:
•Pricing including averages, medians and modes
•Type of apartments being rented
•Neighborhoods where apartments are rented
•And more
"Keeping updated on the market is more important than ever," says report creator Brian Lowenberg. He goes on to say, "With the economic crisis hitting the Paris Furnished Apartment market, it is important for owners to stay competitive and for clients to know what a fair price for a rental in Paris is. We are able to provide this in our bi-annual market report publication."
For more than 2 decades, New York Habitat has worked in the furnished apartment rental market in New York, Paris, London and the South of France. With this experience, the company has gained the will and knowledge to be strong even in tough economic times. With its years of experience, New York Habitat has become a leader in the Furnished Apartment and Vacation Rental market in Paris. Our presence continues to grow throughout the City of Light. Click here to view our Paris Apartments.
Readers are invited to contact New York Habitat for more information about the market report at +1 (212) 255-8018. Feel free to share any comments, ideas, suggestions or request for more information. New York Habitat will continue to provide up-to-date information in the future in order to keep readers aware of the latest news in the Paris Furnished Apartment Rental Market. If you need help with any of our services including renting an apartment, listing an apartment, corporate relations or student housing, e-mail New York Habitat at info(at)nyhabitat.com.
###