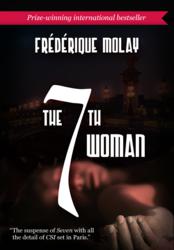 It's the kind of suspense that
makes you miss your subway stop or turn off you phone.
New York, New York (PRWEB) October 23, 2012
In this new release in English from Le French Book, there's no rest for Paris's top criminal investigation division. Who is preying on women in the French capital? How can he kill again and again without leaving any clues? "The 7th Woman" by Frédérique Molay has the suspense of "Seven," with CSI-like details, giving a whole new dimension to the City of Light. It met with instant success in France, where it won the country's most prestigious crime fiction award, the Prix du Quai des Orfèvres, topped the lists and was named Best Crime Fiction Novel of the Year. It has been translated into seven languages and is already an international bestseller, with over 150,000 copies sold.
"The 7th Woman is a taut and terror-filled thriller," says New York Times bestselling author Robert Dugoni. "Frédérique Molay navigates French police procedure with a deft touch, creating a lightening quick, sinister plot. Chief of Police Nico Sirsky is every bit as engaging and dogged as Arkady Renko in Gorky Park."
A serial killer is taking pleasure in a macabre ritual that leaves the police on tenterhooks. Chief of Police Nico Sirsky—a super cop with a modern-day real life, including an ex-wife, a teenage son and a budding love story—races against the clock to solve the murders as they get closer and closer to his inner circle. Will he resist the pressure? The story grabs you by the throat and doesn't let go until the last page, leading you behind the scenes with the French police and into the coroner's office.
"The 7th Woman blends suspense and authentic police procedure with a parallel tale of redemption. Well-drawn characters and ratcheting tension won't let you put the book down. I read this in one sitting," says Paris mystery writer Cara Black.
"When I first read this book, I wanted it on our first list," says Le French Book founder and translator Anne Trager. "The author very convincingly conveys day-to-day police work in the French capital without for a second letting you get off the edge of your seat to catch your breath."
The author Frédérique Molay graduated from France's prestigious political science school Science Po and began her career in politics and the French administration. After "The 7th Woman" took France by storm, she dedicated her life to writing and raising her three children. She has five books to her name, with three already published in the Chief Nico Sirsky series and a fourth on the way.
The launch campaign includes a final chance to enter Le French Book's kick-off sweepstakes that gives readers a chance to:

Win a trip to France, and stay five nights in the beautiful bed and breakfast Garonnella overlooking the Garonne River.
Win delicious samples of France's best vineyards (to be enjoyed responsibly, of course), thanks to Vignobles & Signatures.
Win a number of other books and prizes.
The launch kicks off on October 23. It's for a limited time only.
The 7th Woman, by Frédérique Molay; translated by Anne Trager
$7.99—published by Le French Book
ISBN: 978-0-9853206-6-9 (Kindle)/978-0-9853206-7-6 (epub)
First published in French (La 7e Femme, Librairie Arthème Fayard, Paris)
Direct-to-digital translation; ebook exclusive
Marketing campaign launch: October 23, 2012. Available in all major ebook outlets.