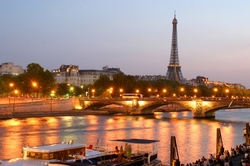 Taste of Paris and Beyond
Saint Michaels, MD (PRWEB) May 15, 2009
St. Michaels, MD PRWEB) May 15, 2009 -- French Wine Explorers, America's leading luxury French wine tour company, is offering new exclusive tours of Paris, the City of Lights. These wine and culinary adventures explore major landmarks and hidden gems in the most beautiful city in the world, while indulging in its food, wine and culture. Tours include the choice of luxury boutique accommodations on either the Left or Right Banks in Paris, as well as a choice of privately guided Paris tours and exclusive activities.
The six-day "Taste of Paris and Beyond" Tour includes three days in Paris and three days in wine country. Guests experience the elegance, romance and excitement of the city of Paris, including a full day of private customized activities based on the guest' preferences, such as art, architecture, history or gourmet pleasures. Also included is a private wine tasting class, followed by a wine tasting lunch with a wine expert as a perfect primer to the wine touring activities. Guests then travel by high speed train to explore the wine region of their choice. Package options include tours in Bordeaux, Avignon (Provence), Burgundy or Champagne, with a private wine expert/guide. VIP tours and tastings at some of the most prominent and relevant estates of the region further enhance the wine tasting experience.
With the three-day "Paris Sojourn" Tour, guests can customize their Paris visit with choices such as a full day of private touring in Paris, a market visit with cooking class, or a day tour to Champagne, to name a few. The tour provides an unforgettable "taste of Paris" with memories to l linger with you long after the experience is over.
Owner Pascale Bernasse comments: "I am thrilled to extend our touring product to include Paris, our clients have been asking for this for some time now. We have wonderful partners in place in Paris to provide the same level of service as in the French wine regions. This offers guests a seamless experience with quality assurance along the way."
The Maryland-based company has been acclaimed by the international travel and wine press, and was recently named "Top 10 Things to Do That Will Make You Smarter" by Matador Trips', and "Over-the-Top" learning vacations by Rachel Ray Magazine. Their extensive wine and travel industry connections open the doors to top wineries and private estates for their guests, providing them an exclusive insider's view not available to the public. Programs are designed to be fun and memorable for wine enthusiasts of all ages and levels of wine knowledge and experience. Tours are informative and exclusive, while keeping the atmosphere light, fun and unpretentious.
All tours include deluxe, air conditioned motor transportation, luxury hotels, some gourmet meals with premium wines, wine tastings, sightseeing, and services of a bilingual expert guide. Prices for the land-only packages start at US$950 per person, double occupancy, for the Paris Sojourn Tour.
French Wine Explorers also offers custom-designed wine tours for guests wishing to choose their own itinerary or multiple regions. Corporate programs are also available, as well as special private tours for affinity clubs, friends and family gatherings and honeymoons.
For more information, call toll free 1-877-261-1500. Full information is also available on the French Wine Explorers web site at http://www.wine-tours-france.com.
###