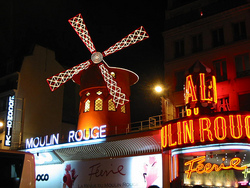 San Francisco, CA (PRWEB) July 29, 2009
As the Tour de France has concluded along the Champs-Elysees, Viator.com is exploring the beautiful city of Paris as its summer series, Viva La Viator, continues. As "viator" is Latin for "traveler," Viator.com, the leading resource for researching and booking more than 5,500 trip activities and experiences in 75 countries at the best prices, is encouraging everyone taking a trip this summer to dig deep, like the cyclists climbing the Alps, to truly experience all their destination has to offer.
Viva Paris
Paris, the capital city of France located on the lovely river Seine, is one of the world's most popular holiday destinations. From icons like the Louvre, the Eiffel Tower and the Champs-Elysees; to the romance of a river cruise along the Seine; to the thrills of the cabaret at the Moulin Rouge - Paris is a destination well-adored by millions of visitors and well-explored by true travelers who plan and book their activities in advance.
First Time Visitors - There are a number ways a first-time visitor to Paris can experience a great deal in a relatively small amount of time. A Viator top-seller, the Eiffel Tower Dinner, Paris Moulin Rouge Show and Seine River Cruise combines three Parisian iconic experiences into one evening. The Paris Pass, with the choice of two, four or six days provides free public transport plus skip the line and fast track entry to many of the featured sites and attractions which include the Louvre, Arc de Triomphe, Pantheon and Musee d'Orsay. Travelers should also consider the Paris Walking Tour: Classic Paris, the Heart of Paris Bike Tour and the Paris City Hop-on Hop-off Tour as a good start.
Pleasures of the French Palate - Visitors to Paris can treat themselves to some of the finest food and wine available with expert guides leading the way. The Paris Chocolate and Pastry Food Tour with local "foodie" guide visits at least three pastry shops, a bakery and three chocolate shops. The Paris Food Walking Tour: Gourmet French Food includes visits to a bakery, pastry shop, local caterer, wine shop and cheese shop while the Pastry and Dessert Course in Montmartre features recipes taught by a professional French chef. The French Wine Tasting in Paris led by a professional sommelier, sips a variety of wines from Alsace to Bordeaux, from Burgundy to Chateauneuf-du-Pape. The Champagne Tasting Cruise in Paris combines the beauty of the Seine river with the pleasure of tasting three Champagnes.
Only in Paris - Paris has its icons, but it also has more intimate and unique aspects to explore. The Perfume Workshop in Paris studies its history and current trends with a top Paris "nose," then travelers can create their own exclusive scent to take home. Paris is synonymous with style, and the Teen Shopping and Fashion Accessories Tour in Paris turns the trends to the teens focusing on the hippest and funkiest French brands. And, a quintessential symbol of the Parisian lifestyle is experienced first-hand during the Viator Exclusive: Private Paris Tour by Citroen 2CV. Thanks to the convertible soft top roof of this emblematic car and expert chauffeur and guide, this largely customizable private tour offers a magnificent panoramic and insider's view of the city. Other 2CV excursions include Essential Paris and Secret Paris.
Culture and History - A trip to Paris must include the Louvre and the Skip the Line: Paris Louvre Museum Guided Tour offers a prioritized tour featuring the Venus de Milo, the Victory of Samothrace and Leonardo da Vinci's Mona Lisa. Monet's Garden at Giverny and American Art Museum Afternoon Tour by Minivan visits the beautiful home and garden that inspired the master of Impressionism, Claude Monet. A trip to Versailles in the summer (until Oct. 26) like the Versailles Guided Tour with Optional Fountain Show features the option of enjoying a magnificent fountain display revealing the skill and artistry of three centuries of French garden design and engineering. The Loire Valley Castles Day Trip: Chambord, Cheverny and Chenonceau visits the three most famous chateaux of the Loire Valley: Chenonceau Castle, Chateau de Cheverny and Chateau de Chambord. Spend a special day traveling to Normandy during the D-Day Tour: Normandy Battlefields and Landing Beaches by Minivan and visit the American Cemetery in Coleville, Arromanches and the beaches of Omaha and Juno.
Traveler of the Week
As part of the Viva La Viator summer series a "Traveler of the Week" will be chosen from among Viator customers who have submitted traveler reviews and photos representing each destination or theme. Visit the Viator Travel Blog for more information. For details on these Parisian experiences or any of Viator's more than 5,500 tours and activities around the world including special summertime deals and discounts, visit Viator.com.
About Viator
Viator is the world's leading online resource for travel experiences, providing access to more than 5,500 tours, attractions and activities in 450-plus destinations in 75 countries. Viator - the Latin word for traveler - offers travelers a one-stop shop to plan, research and book trip activities with helpful resources like nearly 100,000 traveler reviews and photos, star ratings, suggested itineraries and the Viator Travel Blog. Viator's in-house travel experts have picked respected and trusted local operators to ensure a quality experience, value and service, all backed by Viator's low-price guarantee. Founded in 1995, Viator sells its products directly to consumers at http://www.viator.com and through its global network of more than 1,000 affiliates that include major hotel and airline companies, online travel agencies, city-specific sites and more. Through its collection of company operated and affiliated sites, Viator welcomes more than 2.5 million visitors per month. Viator is headquartered in San Francisco with regional offices in Sydney, London and Las Vegas.
###