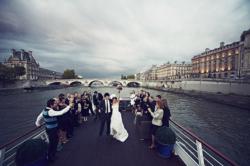 You can have a Parisian wedding in a 13th century wine cellar-turned-disco, or a romantic artist's loft. The choices are amazing.
PARIS, France (PRWEB) May 18, 2011
Is the classic French chateau destination wedding going the way of the garter belt? Well, no. But Paris-based American wedding planner Kim Petyt has noticed a growing trend among her clientele that suggests destination brides are seeking an edgier, more modern French wedding experience.
To accommodate this demographic, Petyt is pleased to announce that her wedding and event planning business, parisian events, is heightening its focus on couples wishing to create a one-of-a-kind, urban wedding that marries Paris's high-glamour vibe with the couple's personal style.
"Brides are bombarded with the formal, romantic, almost antique, image of the French wedding," says Petyt, who founded parisian events in 2005. "Couples wanting to design a more "downtown" or offbeat wedding in Paris can almost think such a thing isn't possible! Parisian events can help couples to look beyond traditional images, and develop a fun, contemporary Parisian wedding that also mirrors their character as a couple."
To reflect the company's shift in focus, the parisian events website has been completely redesigned. The new website showcases five stunning and distinctive weddings in Paris planned by the parisian events team. Paris-bound bridal couples can gain inspiration from weddings such as: "A Moveable Feast," a glam celebration that took place on a luxurious Seine river cruise; "Paris Masala," a fête in a private hotel particulière that highlighted the couple's Indian-American and French heritage; and "Au Bout du Souffle," an elegant ceremony and reception situated in the woods just outside of Paris's 16th district.
These featured weddings barely scratch the surface of the types of venues available in Paris, however. "Paris is full of gorgeous hidden passages and unusual locations that are available for weddings," Petyt says. "You can have a wedding in a 13th century wine cellar-turned-disco, or a romantic artist's loft. The choices are amazing."
While the focus of the business has shifted toward urban weddings, certain elements will remain the same. Petyt's popular, award-winning blog, "parisian party: tales of an american wedding planner in paris" will continue to be featured on the parisian events website. In addition, parisian events will continue to organize engagement parties, bridal showers, rehearsal dinners, day-after brunches, and symbolic wedding ceremonies. And brides desperate for a Marie-Antoinette style wedding can still have that too – with or without macarons.
About Kim Petyt
Kim Petyt is the Owner and Creative Director of parisian events, a wedding and event planning service based in Paris, France. Petyt has resided in Paris since 2001 and has more than 10 years experience planning corporate and social events in both the U.S. and France. A true Paris insider, Petyt is known to be a preeminent resource for those planning a wedding or special event in Paris. Since founding parisian events in 2005, both Petyt and the business have received international attention, including references in publications such as Real Simple Weddings, Get Married Magazine, Eco-Beautiful Weddings, Long Island Bride & Groom, Cosmopolitan China, and France Magazine. Most recently, she was featured in the New York Times T Magazine "Summer 2011 Travel" issue, highlighting her skills as a cultural liaison for brides seeking to marry in France.
For more information, contact: Kim Petyt
Phone: +33 (0) 9 81 97 36 49
Email: contact(at)parisianevents(dot)com
URL: http://www.parisianevents.com.
###