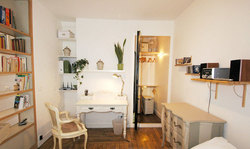 Who needs a hotel room?
Irving, TX (PRWEB) July 3, 2010
Paris, Ile-de-France, France (PRWEB) July 3, 2010 -- A hotel room would usually have a fridge filled with over-priced drinks. Not only that but in many hotels, there is a fridge with in-built sensor such that if any of the items inside is moved, it is automatically registered and guests have to pay for it on checkout. This prevents them from storing their sandwiches there. There no facilities for cooking and often no facilities for cleaning clothes.
An apartment typically has a fridge which is entirely empty for guests to use for storing food and ingredients for your own cooking. They often have a well equipped kitchen with all sorts of utensils such as fry-pans, salad bowls, cereal bowls, toaster, coffee machine, an oven and other more unusual things like a blender. In many apartments guests get complimentary coffee, a selection of teabags, sugar, and even things like olive oil, salt, pepper and other basic ingredients. In addition Paris rental apartments, usually have smoke detectors to help guests feel safer during their stay.
Staying in an apartment during a visit to Paris and the rest of France is often an option that is overlooked. If the holiday-maker is after cheap travel then they will likely want to have cereals or freshly-made croissants for breakfast and sandwiches for lunch made out of the local produce in the local markets. Finding cheap places to have lunch in Paris can take time, and finding cheap places to eat lunch near tourist attractions is almost impossible.
Some apartments in Paris have a washing machine and dryers, but it's quite common to find small studios without washing machines, so it is something to look out for when considering two or three different apartments.
Another important feature to look when looking for apartments is the size. It is often the case to be misguided by the price without realising that one of the apartments might only be 18 m2 and the next one 30m2, which is rather more comfortable and avoids getting the feeling that one lives in like a sardine. If travellers bring their family over they will more likely be looking for a one bedroom apartment with a comfortable sofa bed, kitchen area, and a lounge/dining area.
Paris has a lot to offer in its very diverse 20 districts that form the city. One of the most inviting districts to discover is he 14eme arrondisement(14th district), which is a bustling neighbourhood bustling with local markets, artists worlshops and real French-looking street life. In this quarter travellers may typically find a small-sized (12 m2) hotel room ranging from €110-140/night. In turn, if they are able to venture into the apartment holiday option, they can be expected to find a studio apartments of up to 40 m2 for as little as €75/night for week bookings.
There are yet other modern conveniences about staying at apartments. Guests can enjoy amenities like free wi-fi internet access, LCD TV, DVD and high-quality stereo music, free international phone calls to call friends and relatives at ease and tell them what a wonderful time they are having. Also, in some apartments, you can enjoy pleasant views over a small square and twilight settings in the background, which is also an enriching experience.
My Paris Apartment
http://www.my-paris-apartment.com/
+33 (0)183560380
# # #