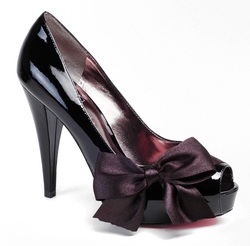 New York, NY (PRWEB) October 14, 2009
Have you ever wished you could walk in Paris Hilton's shoes? Now you can! Paris Hilton has a hot new line of women's shoes that are made for luxe-loving fashionistas.
Paris Hilton Footwear has partnered with Polyvore to present their first ever Shoes for a Year Competition. Beginning October 14, 2009, every registered Polyvore user will have the opportunity to create an outfit on Polyvore.com that showcases her chic style. Make sure to feature a pair of Paris Hilton Shoes from Heels.com or Zappos in your outfit. Paris herself will review the outfits, select her favorite, and tweet about it to her 700,000 followers. The winner will be able to slip on a new pair of Paris Hilton Shoes every month for a year- THAT'S TWELVE FREE SHOES!!
The deadline for submissions is Wednesday October 20, 2009 at 11:59 PM PST. For the official rules or more information, visit Polyvore.com.
Polyvore is one of the largest and most influential fashion communities on the web. Offering 100% user-generated editorial, Polyvore delivers the most engaging way for fashion enthusiasts to create, discover, shop and share the web's best fashion. On Polyvore, users can create fashion spreads called "sets" by mixing and matching images, such as runway shots, clothing and products, and share them with the website's worldwide audience of fashion enthusiasts. Often described as "highly addictive," Polyvore receives more than five million unique visits a month. With tens of thousands of sets created on the site daily, Polyvore users influence, decide and drive fashion trends.
Paris Hilton Footwear, designed to be chic and trendy, is produced with high quality components and finishes. The collection features a range of styles from sexy stilettos to stylish flats, boots, and booties.
###