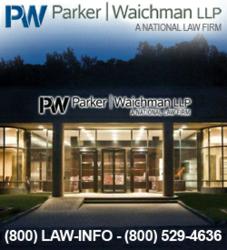 New York, New York (PRWEB) July 18, 2012
Parker Waichman LLP, a national law firm dedicated to protecting the rights of victims injured by defective drugs and medical devices, is providing new evidence in the litigation involving Bausch & Lomb Renu with MoistureLoc solution and is seeking to renew a prior defense motion that excluded general-causation opinions on behalf of the Plaintiffs' experts over non-Fusarium corneal infections. The motion was filed on July 13th in the Supreme Court of the State of New York, County of New York as part of In Re: New York Renu with MoistureLoc Product Liability (Index No.766,000/07).
In 2006, Bausch & Lomb globally recalled their Renu with MoistureLoc contact lens solution when data from the U.S. Centers for Disease Control (CDC) linked the product to an outbreak of Fusarium keratitis. Keratitis causes the cornea to become inflamed; in some cases, the condition can cause complications leading to blindness. Keratitis can be caused by several factors, including injury, various bacteria, fungi and viruses. Overall, the CDC found 164 cases of Fusarium keratitis among 33 states and 1 US territory, stating "that this outbreak of Fusarium keratitis was associated with use of ReNu with MoistureLoc contact lens solution. Contact lens users should not use ReNu with MoistureLoc."
Parker Waichman LLP has been fighting to protect consumers from the allegedly defective product for several years. According to their newly filed motion, there is new evidence linking Renu with MoistureLoc to decreased anti-microbial activity, which can foster keratitis. This month, the Eye & Contact Lens journal published a study showing that an alexidine solution (the disinfectant used in Renu with MoistureLoc) heated to 56⁰C in a Renu HDPE plastic container resulted in a significant loss of anti-microbial activity. The researchers concluded that "This loss of inhibitory activity is not specific to Fusarium and occurs with other fungi and bacteria that cause keratitis."
In granting a pre-trial motion to the Defendants in July 2009, the Court has previously denied general-causation opinions from the Plaintiffs' experts regarding non-Fusarium corneal infections. According to a notice of motion by Parker Waichman, the Plaintiffs' did not provide sufficient evidence showing that medical or scientific community accepted the association between Renu with MoistureLoc and non-Fusarium corneal infections. The court cited a lack of controlled studies, clinical data, medical literature peer review or supporting proof. Parker Waichman LLP states that this is no longer true. According to one of the plaintiffs' experts, the new study conclusively supports the notion that Renu with MoistureLoc does not effectively kill bacteria when it is packaged in HDPE plastic bottles and exposed to high storage temperatures. Furthermore, the evidence shows that this effect is not specific to Fusarium, but to other types of bacteria that lead to keratitis.
Parker Waichman LLP offers free lawsuit consultations to victims of defective drugs and medical devices, including Bausch & Lomb's recalled Renu with MoistureLoc contact lens solution. If you or a loved one experienced a serious eye infection that could be associated with the use of Renu with MoistureLoc, or a similar contact lens solution, please visit the firm's Renu with MoistureLoc injury page at yourlawyer.com.
Free case evaluations are also available by calling 1 800 LAW INFO (1-800-529-4636).
For more information regarding Renu with MoistureLoc lawsuits and Parker Waichman LLP, please visit: yourlawyer.com or call 1-800-LAW-INFO (1-800-529-4636).
Contact:
Parker Waichman LLP
Gary Falkowitz, Managing Attorney
(800) LAW-INFO
(800) 529-4636
http://www.yourlawyer.com