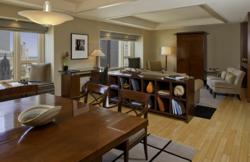 As part of Park Hyatt's commitment to our guests, we continue to provide an updated and fresh approach...
Chicago, IL (PRWEB) May 31, 2012
Park Hyatt Chicago will unveil redesigned suites after undergoing transformations to their interiors, completing a two-year, multi-million dollar hotel renovation. The suites will be exclusive to Park Hyatt Chicago, including the iconic Water Tower Suite and the launch of a designer suite in partnership with Bottega Veneta.
"As part of Park Hyatt's commitment to our guests, we continue to provide an updated and fresh approach in all that we have to offer," said Walter Brindell, General Manager and Area Vice President, Park Hyatt Chicago.
The hotel has collaborated with one of Italy's leading designers, Bottega Veneta. Known for their high-end leather goods, Bottega Veneta has created a suite inspired by the brand's timeless aesthetic. Lake Suite Bottega Veneta will be a reflection of the sophisticated and understated elegance the Park Hyatt brand is known for. Additionally, the opening of a new Water Tower Suite will pay homage to the arts and culture of Chicago. Through the use of high quality materials and chic designs, the new suites will reflect Park Hyatt Chicago and Park Hyatt brand's dedication to understated elegance and superior quality, making the hotel home to the most stylish suites in town.
"The synergy between our brands allows us to continue to enhance our guests' experience. From the craftsmanship, quality, and attention to detail, we look forward to offering guests a new standard of excellence as a premier luxury hotel destination. We want our guests to live and breathe Park Hyatt Chicago," said Brindell.
Once completed, the renovation will have touched every aspect of the hotel from the guestrooms to lobby; meeting space; and lifestyle brand on the seventh floor: NoMI Kitchen, NoMI Lounge, NoMI Garden, and new NoMI Spa.
Lake Suite Bottega Veneta
After opening a boutique on the ground level of the hotel in 2000, the fashion house is now bringing its elegant designs to the 17th floor in the one-of-a-kind Bottega Veneta suite. The collaboration between Park Hyatt Chicago and Bottega Veneta is a natural one. In addition to sharing the same address, the two share a like-minded approach to quality and luxury that is reflected in the design of the suite.
Offering stunning views of Lake Michigan and measuring 1,400 square feet, the new suite's design is sleek and elegantly minimalist. The bedroom, open living room, kitchenette, and two bathrooms are spacious and uncluttered, maximizing the light and dramatic views of Chicago's expansive lakefront.
The furniture, most of it drawn from Bottega Veneta's furniture collection, includes chairs, a sofa bed, and a brisée from the META line, produced in collaboration with Poltrona Frau. Also from the collection are folding "camp" stools and a bed, as well as chests of drawers, end tables, and a dining room table and chairs.
The palette is warm and light, composed of signature Bottega Veneta neutrals like pergamena, and noce; and uniform, with graphic accents in ebony and black. The plush suite's floors are draped with soft, New Zealand wool carpets while suede, leather, Ashahi bookcloth, and mohair velvet are used as wall coverings, upholstery and window treatments. Leather pillows, hand-carved Venetian glassware, and cashmere throws, objects from Bottega Veneta's home collection, provide lavish finishing details.
Water Tower Suite
Park Hyatt Chicago's iconic Water Tower Suite captures the city's vibrancy and beauty.
Offering magnificent views of Lake Michigan and Chicago's historic Water Tower Place, the newly renovated suite is the best place in town to catch the hustle and bustle of Michigan Avenue. There will be touches of art and architecture throughout the room, including books on local museums and historic buildings.
This signature suite features a marble foyer, spacious living with double-sided fireplace, a dining room, kitchen, wet bar, half bath, office, and bedroom. Also included are luxe amenities – a butler service upon request, 24-hour concierge, Bose® home entertainment system, 52" flat screen TV, and courtesy car for local transportation.
Rates and Booking
Rates for Lake Suite Bottega Veneta start at 4,500 USD and rates for the Water Tower Suite start at 6,000 USD.
About Park Hyatt Chicago
Epitomizing modern luxury, Park Hyatt Chicago is a seamless blend of warmth and innovation in a sophisticated urban atmosphere. With a premier presence on North Michigan Ave, Park Hyatt Chicago boasts spectacular cityscape and Lake Michigan views. A collection of original contemporary art is displayed throughout, expressing the vitality and personality of city. For more information, or reservations, please call Lynne Bredfeldt, 1 312 239 4011 or visit http://www.parkchicago.hyatt.com.