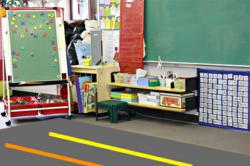 "Non-profits deserve the best pricing we can offer, which is why we decided to create this discount program. When they have to spend less on safety supplies, then more of their budget can be focused on their organization's objectives," said Cliff Lowe.
Wake Forest, NC (PRWEB) August 31, 2012
Stop-painting.com is excited to announce that it's giving all non-commercial organizations a 5% discount on their new line of parking stencils and on most of their other online products. All of their other traffic control and workplace safety products are also discounted for non-commercial organizations at the Stop-painting.com site, http://stop-painting.com/. This discount is available throughout 2012.
Stop-painting.com wants to help schools and other non-commercial organizations keep their parking lots safe, which is why they're offering a 5% discount on their parking stencils and other traffic control products. The parking stencils are made of highly durable, low-density polyethylene plastic and are completely reusable.
Maintaining good traffic flow, updated signage, and clearly marked parking spots are important aspects of keeping parking lots safe. This is especially important for schools and universities where the lives of children are at stake and high volumes of traffic are a daily occurrence. Using road reflectors and parking stencils helps to make traffic flow more visible and safer for all concerned.
Stop-painting.com, a leader in industrial safety and traffic control solutions, understands the importance of clearly marked parking stalls, directional arrows, and road reflectors in keeping parking lots safe for pedestrians.
The parking stencils from Stop-painting.com are available in kits. The kits include numbers and letters, as well as directional arrows and signage stencils like "permit parking" or "handicap parking."
The stencils are made of highly durable, low-density polyethylene plastic in 1/8" or 1/16" thickness. Custom stencils are also available. Qualifying orders over $100 ship free.
Stop-painting.com is the ecommerce website of InSite Solutions, LLC. They're a well-respected leader in the industrial safety and traffic control industry. They offer a comprehensive selection of products designed to enhance traffic control and improve safety in the workplace.