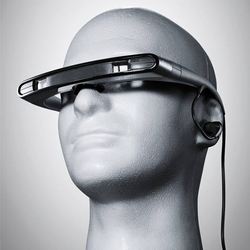 Palm Springs, CA (PRWEB) April 14, 2010
Parkinson's Gait - the manner in which a person with Parkinson's disease walks is characterized by shuffling steps, freezing in place and loss of balance. Palm Springs resident Daniel Neal had a severe motor impairment due to Parkinson's Disease. But with the help of a new virtual reality motor feedback device, the GaitAid made by MediGait, he now walks comfortably and confidently without a cane and without falling.
The GaitAid Virtual Walker by MediGait is a high tech, virtual reality pair of goggles with headphones.
This high tech device works by creating an 'augmented reality' - computer generated visual and audio motor feedback cues that dramatically improve Parkinson's gait - walking speed, balance and confidence.
The usual practice routine for a person simply means going for a walk in a safe, normal environment.
The portable GaitAid unit hooks onto the patient's clothes. A computer processor inside the device measures walking movement. The processor provides visual and audio feedback cues to the display and to the earphones during practice walks. The feedback mechanism provides information to the sub-conscious processes in the brain that control walking.
People often report high motivation and enjoyment during use. People practice on any safe walking path - in the home, in their own neighborhood, or a walking trail. People see greater benefits and improvement as they walk in different environments.
People only need to use the device in training sessions. In as little as two weeks, 20 minutes of training each day resulted in significant lasting improvement in over 70 percent of the patients tested.
Clinical studies have shown that patients with Parkinson's gait dysfunctions as well as gait dysfunctions due to Senile Gait, Multiple Sclerosis, Cerebral Palsy, and stroke , are able to walk without freezing, have better balance, higher walking speeds and longer strides.
For more information visit http://www.medigait.com/parkinsons.html
Video demonstrations of patients in training available here: http://www.medigait.com/videos.html
Clinical studies available here: http://www.medigait.com/studies.html
Published in:

Neurology
Neural Processing Letters
Journal of the Neurological Sciences
Frontiers in Neuroscience
For more information contact: Audrey Holmes support (@) medigait (dot) com 888-777-9906
###