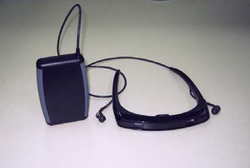 The device even helps with my drop foot. I'm synchronizing my walking with the tiles. I can do it now without wearing the device.
Haifa, Israel (PRWEB) January 6, 2009
One month ago, New York resident Steve F. was for all intents and purposes tied to his chair the entire day because of the double-whammy of Parkinson's disease and Multiple Sclerosis. He was forced to use a walker to keep his balance while making even short trips within his own home.
Now, because of a virtual reality device called the GaitAid Virtual Walker, he's able to get around his apartment and even outside without the aid of his walker or any other support devices.
The GaitAid device stimulates a neuroplastic response in the brain of the user. In simple terms, this means the patient's brain responds to the stimulus by creating new healthy brain circuits bypassing disease-damaged areas in the process. Steve's wife Margarita claims he started walking better within the first 10 minutes of his first session walking while wearing the device. She said, "We are undoing bad habits Steve developed to compensate for his lack of balance. Lately, this week he is walking without any aids at all. He's no longer afraid to walk, taking longer steps, and has better equilibrium."
Developed by Professor Yoram Baram, CEO of Medigait LTD, the Virtual Walker displays images of black and white tiles visible to the wearer and also generates audio or sound feedback stimulating a natural walking stride and rhythm. Steve says when he walks while wearing the device, he gains confidence immediately, his stride gets longer, and he falls into a natural walking rhythm. He says it actually stimulates a strong desire in his mind to walk better and the Virtual Walker totally adjusts to your stride. The tiles adjust to your movement.
Clinical studies appearing in the medical journals; Neurology, Neural Processing Letters, and Journal of Neurological Sciences described the device as being effective and without the risk or possible adverse side effects caused of surgery and medication. In these studies 70% to %85 of MS, PD, and other movement disorders improved their walking. Links to this information can be found at http://www.gaitaidmedical.net/studies.html .
Medigait introduced the GaitAid Virtual Walker to the market recently after locating a reliable high quality US-based medical device company to manufacture the device for them.
The visual images generated by the Virtual Walker have proven to be a great benefit to Steve in overcoming his fear of walking and falling. He suffers from panic attacks while walking, which contributed to his being confined to his chair in his living room. Margarita says now if Steve starts to panic while walking, he's able to calm himself by visualizing the tile images in his minds eye and making clicking noises with his tongue similar to the way the device works. He then starts walking again. Steve and Margarita say this has greatly enhanced the quality of both their lives.
Steve said, "The device even helps with my drop foot. I'm synchronizing my walking with the tiles. I can do it now without wearing the device."
Steve says he didn't notice an improvement for a few sessions. By then, his wife claims he was walking almost normally. Although the device was not designed with drop foot in mind, and drop foot is not something Medigait claims the Virtual Walker helps in any way, Steve and his wife both say his drop foot, a symptom of his MS, isn't even noticeable anymore when he really concentrates. Margarita thinks this is a side effect of the neuroplastic brain response. Steve is just happy he can get up and move around.
Margarita says she actually catches him wandering around in the apartment now. She says he hasn't done that in years.
Not only that, he's able to go downstairs to get the mail down in the front of the building. He walks the corridors of the building, and during good weather, goes for a walk on the waterfront across from the building. They both greatly appreciate that Steve can now get back outside because being cooped up inside all the time is very difficult for both of them.
While working on a project for NASA to improve the ability of pilots to navigate low-flying helicopters around tall objects, Professor Baram developed the concepts leading to the breakthrough device. Originally designed with Parkinson's disease (PD) patients in mind, it turns out to be an effective option for Multiple Sclerosis (MS) patients and other movement disorder patients as well.
For more information on the GaitAid Virtual Walker device:
Website: http://www.medigait.com
Contact Amir Baram by calling 1-888-777-9906 (U.S) or email him - support (at) medigait (dot) com
About MediGait LLC
MediGait was founded by Yoram Baram, PhD, a Professor of Computer Science and incumbent of the Roy Matas / Winnipeg Chair in Biomedical Engineering at the Technion, Israel Institute of Technology. The idea for this project was sparked 12 years ago while Professor Baram was designing a mechanism for NASA to navigate low-flying helicopters around obstacles. The concept of the design, which Baram later applied to the medical device, is that the optical images of objects help the observer navigate, stabilize and pace movement in space.
# # #