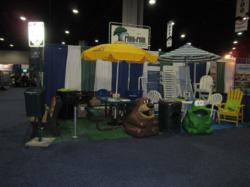 Tradeshows are a great way for our company to show the quality and sturdiness of our products.
Lexington, VA (PRWEB) January 31, 2013
Each year ParknPool, one of the leading online and catalog distributors of commercial grade furnishings and site amenities such as picnic tables, trash receptacles, park benches, bleachers and playgrounds, attends several tradeshows. These tradeshows and expos are a great way for ParknPool to get acquainted with those in a similar business or those looking to purchase for their hotels, resorts, parks and campgrounds.
One tradeshow on the 2013 schedule for ParknPool is the Hospitality Design Expo to be held in Las Vegas May 15-17. This is the first year ParknPool will be attending this expo which is one of the largest hospitality industry related trade events in the United States. The show helps participants get acquainted with the latest industry trends and business opportunities. Trade sessions of various topics and interactive networking events are held on a regular basis during the event, which is organized over a span of three days. Rare, unique and exquisite art items are highlighted at the Live Auction section of the event and a special Art Gallery is also set up. The show features the presence of more than 900 professional exhibitors, who display a diverse array of building materials, spa equipment, signage tools, furniture items and a host of other high utility products. Renowned industry speakers preside over the keynote sessions that are scheduled at the event and new products concepts and innovations are also presented. Over 700 professional attendees, including many international visitors, take part in this eagerly anticipated trade show.
The NRPA Congress and Exposition, which ParknPool attends annually, is the flagship event of the NRPA (National Recreation and Park Association) and the premier event of the park and recreation community. The three-day conference, in which the 2013 dates have not yet been determined, brings together more than 7,000 park and recreation professionals, citizen advocates, and industry suppliers for amazing networking opportunities, hundreds of educational sessions and the industry's largest trade show showcasing the products and services of nearly 400 exhibitors.
Jellystone Parks are among the best in the industry which is why ParknPool has chosen to attend their annual tradeshow as well. The 2013 dates for this event have also yet to be determined but should be announced soon. Jellystone Parks are generally larger than the average, have premiere amenities and services, and are considered "destination" campgrounds. They serve as vacation resorts for campers with the average of stay exceeding three days per visit. The Jellystone Park operating concept includes special amenities and recreation facilities designed to appeal to the entire family. Additionally, each Jellystone park is themed with Yogi Bear elements providing instant recognition and consumer appeal.
ParknPool¬ consistently uses tradeshows, expos and congresses as a great means to meet new contacts and to promote their products. With primarily being an online source for commercial grade furniture, tradeshows are a great way to show off their products and give hands on education in the look, feel and care of their items. For more information on these tradeshows and to find out if ParknPool will be set up at an event near you, give them a call at 877.777.3700.
About ParknPool Corporation:
ParknPool is a Veteran Owned SBE/WBE Company and is the leading online supplier of commercial grade furniture and site amenities such as picnic tables, trash receptacles, park benches, bleachers and playgrounds. ParknPool was founded in 1998 in Orlando, FL and moved their headquarters to Lexington, VA in 2005.