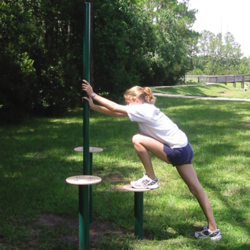 Lexington, VA (PRWEB) June 03, 2013
The Center for Disease Control and Prevention (CDC) recommends American adults get at least 150 minutes of moderate-intensity aerobic exercise or 75 minutes of vigorous-intensity activities every week to help maintain or lose weight. The idea of adults using playgrounds is relatively new to Americans, but outdoor adult fitness areas, open spaces stocked with outdoor fitness equipment freely available for anyone to enjoy, have been gaining popularity in recent years in China, Japan and some European countries.
Within the last year, adult outdoor playgrounds have been popping up all over the country. These playgrounds are packed full of low-impact fitness equipment from balance beams to pull up bars. They are typically located near a children's play area so that working moms or caregivers can both exercise to lose weight and also watch over their children while they play on the swings or slides. Studies show that physical exercise can ward off obesity, depression, diabetes, heart disease and memory loss but the various responsibilities of children can make this impossible to add into a daily routine.
ParknPool has recently added outdoor fitness equipment to their product line. These products are perfectly in line with the commercial grade playgrounds they are currently selling. Since learning the major safety concerns involved with selling and installing a school age playground, the same issues still apply when theming a playground for adults. When an outdoor fitness area is being installed near an existing play area, it is important to keep visibility in mind. The areas should be kept separated to prevent any harm for children that are too young for the equipment but should be placed within eye site so that parents and guardians working out can still see their children at play.
ParknPool's outdoor fitness equipment and school age playgrounds are both commercial grade and manufactured to withstand vigorous weather conditions and constant use. They are the perfect duo when renovating your park to incorporate a new playground and an adult playground initiative. For more information on ParknPool's playgrounds and fitness equipment call 877.777.3700 or visit http://www.parknpool.com
About ParknPool Corporation:
ParknPool is a Veteran Owned SBE/WBE Company and is the leading online supplier of commercial grade furniture and site amenities such as picnic tables, trash receptacles, park benches, bleachers and playgrounds. ParknPool was founded in 1998 in Orlando, FL and moved their headquarters to Lexington, VA in 2005.