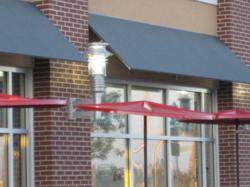 Lexington, VA (PRWEB) June 07, 2013
ParknPool, the leading online distributor of commercial grade furnishings and site amenities such as pool furniture, restaurant furniture, picnic tables, park benches and playgrounds, is announcing special pricing on their 6' Round Starburst Fiberglass Top Patio Umbrella (64UM-00001).
This windproof solid fiberglass umbrella provides a great shade solution and stylish look for guests. It is available in nineteen (19) long-lasting colors to enhance an existing décor and color scheme. The commercial grade two-part polyurethane paint is guaranteed not to crack, fade or peel for five years. All poles are powder-coated 1-1/2" O.D. galvanized steel for durability, rust protection and visual appeal. All fastening hardware is stainless steel.
This 6' Starburst Umbrella is wind rated up to 50 miles per hour but an upgrade option is available to allow it to withstand winds up to 70 miles per hour. This upgrade consists of a center pole which is 50% thicker and a steel reinforced gusset (the structural assembly that is embedded in the fiberglass to which the center pole attaches).
Until June 30, 2013, ParknPool is offering approximately a 10% discount on this 6' Round Starburst Fiberglass Top Patio Umbrella. This promotion is only available on the 64UM-00001 model. For more information on this special pricing, the wind proof upgrade option or their other fiberglass top patio umbrellas call 877.777.3700 or email your questions to info(at)parknpool(dot)com.
About ParknPool Corporation:
ParknPool is a Veteran Owned SBE/WBE Company and is the leading online supplier of commercial grade furniture and site amenities such as picnic tables, trash receptacles, park benches, bleachers and playgrounds. ParknPool was founded in 1998 in Orlando, FL and moved their headquarters to Lexington, VA in 2005. pool.com