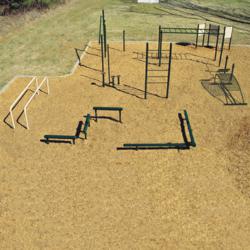 We believe that if our staff is healthy and feels good about themselves then they will be happier individuals both at work and in their personal lives.
Lexington, VA (PRWEB) May 20, 2013
Experience a new level of physical fitness and comfort with ParknPool's new line of outdoor fitness equipment. Designed with ergonomics in mind, the ten (10) station fitness course or each individual piece is the perfect addition to any outdoor area. Warm up with the stretching post and then follow that up with leg and arm exercises on the ladders and beams. Available signage explains the various stations and gives suggestions for physical programs and warm-up/cool-down routines. The individual pieces can be laid out along a pathway or configured piece by piece to fit a specific area.
The ten (10) stations included in ParknPool's new Fitness Equipment category on their website are designed to provide several levels of challenging activities for older children and adults. All items are in-ground mounted except for the Sit-Up Bench. Sit-ups are the most basic and common strengthening exercise for the stomach. Abdominal exercises are easier to do with ParknPool's plastic coated Sit-Up Bench, as it allows a person to brace their feet and avoid having to lift their body flat from the floor; saving individuals from serious back pain.
The Parallel Bars, Pull/Chin Up Bars, and Spring Up Bars offer a simple way to increase upper body strength and fitness while developing coordination, strength and agility. Drills that can be done on the vertical and horizontal ladders improve speed, agility and footwork. Use one of these ladders to burn calories and increase cardiovascular output and endurance. The jumping exercises that can be performed on the Jump Touch Beam, the Beam Run or the Balance Beams provide three (3) substantial benefits to the body. Jumping acts as a cardiovascular exercise, meaning it increases an individual's heart and respiratory rate, leading to calorie burning and weight loss. Jumping exercises also strengthen leg muscles, especially the calf muscles, along with others like the hamstrings and quadriceps. Finally, jumping helps develop stronger bones, especially in developing children.
According to the Mayo Clinic, the health benefits of regular exercise are hard to ignore. It can control weight, combat health conditions and diseases, improve mood, boost energy, promote sleep, and can also be fun. Exercise gives individuals a chance to unwind, enjoy the outdoors or simply engage in activities that make a person happy. Physical activity is a great way to feel better, gain health benefits and have fun. As a general goal, aim for at least thirty (30) minutes of physical activity every day. "We strongly support our employees to get out and exercise," explained Brenda Fonner, ParknPool's Founder and CEO, "We believe that if our staff is healthy and feels good about themselves then they will be happier individuals both at work and in their personal lives". Because of their support for a healthy lifestyle, ParknPool's new line of fitness equipment will only help to enhance their strong core values.
ParknPool seeks to ensure that their clients have the best chance to find what they need. They strive to offer their clients the best selection of outdoor amenities and unmatched customer service. ParknPool achieves this by exceeding expectations while enhancing their clients' earnings. For more information about their brand new line of outdoor fitness equipment, visit http://www.parknpool.com or call 877.777.3700.
About ParknPool Corporation:
ParknPool is a Veteran Owned SBE/WBE Company and is the leading online supplier of commercial grade furniture and site amenities such as picnic tables, trash receptacles, park benches, bleachers and playgrounds. ParknPool was founded in 1998 in Orlando, FL and moved their headquarters to Lexington, VA in 2005.