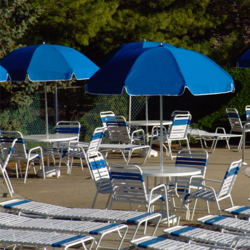 Lexington, VA (PRWEB) May 22, 2013
ParknPool, a leading online and catalog distributor of commercial grade furnishings and site amenities such as picnic tables, park benches, trash receptacles, playgrounds and bleachers, has now made it easy to furnish a pool, campground, park or restaurant with one package deal. They know life is busy, so they just made it easier. No need to take the time to search their website for matching sets; ParknPool has done the work for you. Each furniture set or package includes matching pieces of furniture, removing the burden and agony that sometimes goes into shopping and purchasing large items online. Unless specified, shipping is not included in the price of these furniture combos and is an additional charge.
With "combo" and "super-size" menus popping up all over the country and in every aspect of a daily life, it's only natural that one should be able to order their commercial grade furniture in the same manner. ParknPool has now added a "Combo Menu" category to their website that contains package deals for pools, campgrounds, parks and restaurants. The poolside furniture sets are made up of a Quickship combo, white resin combo and two (2) handicap accessible poolside packages. Each combo contains a matching set of furniture to limit the amount of time a potential customer takes to search their website.
When purchasing for a campground, ParknPool's Campsite Furniture Packages are available with discounts on multiple purchases. Their single site and ADA (American's with Disabilities Act) furniture packages include a picnic table, fire ring and trash receptacle. If five (5) of these site packages are ordered then the client receives a grill for $99, if ten (10) sites are ordered then the client receives a six (6) pack of white Bahia chaise lounges for $450 and if twenty (20) are purchased then the six (6) pack of white Bahia chaise lounges will only cost the client $250. ParknPool understands that starting and opening a brand new campground can be a daunting task; now they have made it easy to furnish all sites including adding in a few ADA items.
Also available in their new "done for you" furniture sets are packages available to help restaurant owners easily furnish their indoor and outdoor eating areas. Whether a client is looking for dining or bar height tables and chairs, it is now possible for restaurant owners to make sure they have the maximum amount of seating with just one click. Simply call up one of ParknPool's account managers and order the pool, park, restaurant, or campground combo of your choice, ParknPool will do the rest.
ParknPool thrives on their continuous advancements in customer service. These furniture combos are just another way they are continuing to make it easy to furnish your indoor or outdoor area and by offering these complete packages they have made it possible to do so in just one click. For more information on ParknPool's new complete furniture sets, call 877.777.3703 or visit their website at http://www.parknpool.com.
About ParknPool Corporation:
ParknPool is a Veteran Owned SBE/WBE Company and is the leading online supplier of commercial grade furniture and site amenities such as picnic tables, trash receptacles, park benches, bleachers and playgrounds. ParknPool was founded in 1998 in Orlando, FL and moved their headquarters to Lexington, VA in 2005.