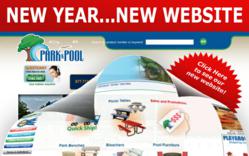 We are very excited with the launch of our new website. We hope that our clients find it to be user friendly.
Lexington, VA (PRWEB) January 17, 2013
As one of the leading online distributors of commercial grade furnishings and site amenities such as picnic tables, trash receptacles, park benches, bleachers and playgrounds, it is important for ParknPool to have a website that functions as smoothly as their buying process. ParknPool's in-house IT and Marketing departments worked diligently throughout 2012 to bring their clients a much more powerful, user-friendly and up-to-date website. This new website allows visitors to navigate their wide selection of commercial products, color configure items, purchase through a shopping cart and chat online with a ParknPool Account Manager.
ParknPool's new website, which launched the first full week of January, is searchable through alphabetized categories, a search bar and by simply browsing through the product line. The flash images located at the top of the home page, streaming testimonials and new shopping cart are just a few of the new innovative features that will allow their clients to easily navigate and purchase any number of commercial grade products.
ParknPool's IT and Marketing departments worked all year long gathering new images, specifications and descriptions in order to better showcase their featured products. Their most popular products are shown with a ribbon designating them as a "Top Seller". Each individual product features a title, description, price, specifications, and tabs that include the color options, features, additional information, lifestyle photos and warranty terms. Also available from the product pages are related products to make it easy for a potential client to fully furnish their outdoor space in one stop.
ParknPool's new site also provides a wealth of education to their clients with links to their blog, Facebook page, press releases, catalog, client testimonials, completed project photos and all available white pages. Educating their clients is a huge goal for ParknPool as they enter into the New Year. This new site is another way they continue to exceed our expectations and enhance our earnings. Visit their new site at http://www.parknpool.com and give them a call at 877.777.3700 to offer any suggestions as to how ParknPool can continue to provide their clients with exceptional customer service through their new website.
About ParknPool Corporation:
ParknPool is a Veteran Owned SBE/WBE Company and is the leading online supplier of commercial grade furniture and site amenities such as picnic tables, trash receptacles, park benches, bleachers and playgrounds. ParknPool was founded in 1998 in Orlando, FL and moved their headquarters to Lexington, VA in 2005.