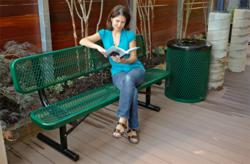 (PRWEB) June 19, 2013
Living in the age of immediate gratification, ParknPool understands that there is nothing better than getting furniture in a hurry. Because of this, they have now added several thermoplastic coated items to their product line that are available for next day shipping.
These items, only available in green and black color configurations, include tables, benches, a trash receptacle and accessories such as a trash receptacle liner and flat top receptacle lid. The 6' rectangular and 46" square tables are manufactured with green tops and seats and a black powder coated frame. They both have an MIG welded frame with a walk through design and stainless steel hardware. The 6' rectangular picnic table (88TA-00001) has a 2-3/8" O.D. (outside diameter) frame with 1-1/16" O.D. bracing. The 46" square picnic table (88TA-000005) is manufactured with a 1-5/8" O.D. frame and 1-1/16" O.D. bracing.
Also available in ParknPool's new next day shipping program, are two (2) 6' benches. Their 88BE-003PM is an extra-heavy duty bench with back. It is manufactured with a standard 12" wide seat, 2-3/8" O.D. all MIG welded frame and 1-1/16" O.D. bracing. ParknPool's 88BE-001PM is also an extra-heavy duty bench but without a back. It also has a 2-3/8" O.D. all MIG welded frame and 1-1/16" O.D. bracing. Both benches are available with green thermoplastic tops and seats and black powder coated frames.
Complete the look with ParknPool's 32 gallon trash receptacle (88RE-00002) with a green thermoplastic finish. The black thermoplastic liner (88AC-00002) and flat top lid (88AC-00001) are sold separately and also included in the next day ship program. In order for a purchase to qualify for the next day ship, it must be placed by 2:00 pm and include a quantity of five (5) per product number per order. Other size, mount and color options are available to order but will not be included in Parknpool's next day ship program.
ParknPool's new next day ship program expires December 31, 2013. For more information concerning this promotion and other ParknPool specials, call 877.777.3700 or email your questions to info(at)parknpool(dot)com.
About ParknPool Corporation:
ParknPool is a Veteran Owned SBE/WBE Company and is the leading online supplier of commercial grade furniture and site amenities such as picnic tables, trash receptacles, park benches, bleachers and playgrounds. ParknPool was founded in 1998 in Orlando, FL and moved their headquarters to Lexington, VA in 2005.