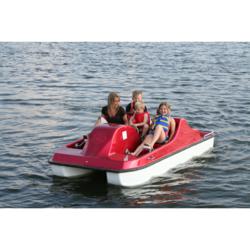 Lexington, VA (PRWEB) May 21, 2013
Water activities are by far the most popular form of recreation for people of all ages. Revenue can be dramatically increased by buying into this already existent client base with ParknPool's new pedal boat commercial units. These pedal boats are highly profitable, generating cash flow for businesses almost immediately. The proven reliability of ParknPool's pedal boats make them easy to self-operate or lease to an independent concessionaire. Ease in pedaling, conveniently located responsive steering and comfortable ergonomic seats make these commercial pedal boats the most popular and easiest to use.
The 100% foam-filled pontoons of ParknPool's pedal boats are virtually unsinkable, exceeding 1500 lbs. net floatation. The foam is held in place by its protective fiberglass shell with aluminum straps. The non-skid textured deck surface is built in. There are no adhesive strips that wear out or peel. Their incredible stability makes climbing on and off safe and easy. They stand up to constant use and are maintenance and trouble free. Mechanics or specially trained personnel are not required to operate these pedal boats. They never have to be drained, any water that gets in automatically drains back into the lake or river. The direct drive feature and four convenient grease fittings minimize down time and maintenance costs.
These are the best commercially used pedal boats on the market today. For more information on these water recreation units and additional options, visit http://www.parknpool.com or call 877.777.3700 to speak with one of ParknPool's account managers.
About ParknPool Corporation:
ParknPool is a Veteran Owned SBE/WBE Company and is the leading online supplier of commercial grade furniture and site amenities such as picnic tables, trash receptacles, park benches, bleachers and playgrounds. ParknPool was founded in 1998 in Orlando, FL and moved their headquarters to Lexington, VA in 2005.