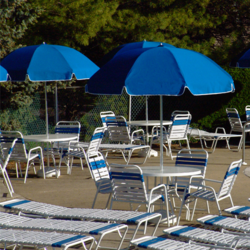 Lexington, VA (PRWEB) April 24, 2013
ParknPool, along with their standard pool furniture product line, is now offering a Poolside Furniture Package in order to help clients furnish their pool with one package deal. This package not only includes six (6) strap lounge chairs, four (4) strap dining chairs, one (1) fiberglass topped dining table, one (1) 7.5' octagonal umbrella and one (1) concrete filled umbrella base, but also includes shipping to anywhere within the continental United States. If shipping is needed outside of the United States, ParknPool is willing to work with their clients but additional charges may apply.
The white on white vinyl strap lounge chairs and dining chairs are constructed from 1" diameter aluminum tubing, and a 0.63" wall thickness, which is reinforced with body braces and fitted with four (4) aluminum skid plates. All welds are 360° to insure that the furniture will stand up to the rigors of public life. The vinyl straps of both the chaise lounges and dining chairs are 2" wide, 100% virgin vinyl and are double wrapped for added reinforcement and secured with nylon solid shank rivets. The lounge chairs and dining chairs will be ordered with a white frame and white main straps. There are over twenty (20) colors to choose from for the accent straps.
The 42" dining table that is also included in ParknPool's new Poolside Furniture Package is the most popular size for pool decks. It seats 4 people comfortably and provides plenty of support for an umbrella and plenty of room for meals or poolside accessories. The white fiberglass solid core textured top has an umbrella hole and also an umbrella support built into the white aluminum base. The umbrella that will arrive as part of this package is a 7.5' octagonal umbrella with a white coated aluminum center pole and 9 oz. solution dyed acrylic fabric that is available in your choice of 10 color options. Its heavy gauge fiberglass skeleton has 8 mm solid fiberglass ribs and comes with a manual lift and no tilt. This umbrella will be held firmly in the dining table with the concrete filled umbrella base, completing the Poolside Furniture Package.
ParknPool is continuing to make it easy to furnish your pool and by offering this complete package they have made it possible to do so in just one click. For more information on ParknPool's new Poolside Furniture Package, call 877.777.3703 or visit their website at http://www.parknpool.com.
About ParknPool Corporation:
ParknPool is a veteran-owned SBE/WBE Company and is the leading online supplier of commercial grade furniture and site amenities such as picnic tables, trash receptacles, park benches, bleachers and playgrounds. ParknPool was founded in 1998 in Orlando, FL and moved their headquarters to Lexington, VA in 2005.