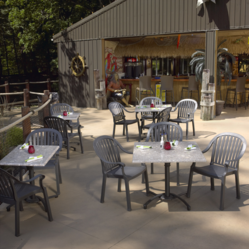 Lexington, VA (PRWEB) June 10, 2013
Studies show that seating style and placement have a huge impact on customers deciding where they will eat and how much money they will spend. These factors can sometimes be more important than the quality of the actual food. As a leading online and catalog distributor of commercial grade furnishings and site amenities such as restaurant furniture, umbrellas, trash receptacles and picnic tables, ParknPool is currently updating and expanding their already extensive line of indoor and outdoor restaurant furniture.
ParknPool's outdoor restaurant tables are available in a large variety of finishes and materials including resin, recycled plastic, aluminum, acrylic, fiberglass and molded melamine. With their large collection of outdoor bar height and dining height seating available in numerous textures, finishes, colors and materials, furnishing an outdoor café or eatery is simple. Choose from resin, recycled plastic, aluminum, all-weather wicker, strap and sling. Built to withstand the elements, ParknPool's outdoor restaurant furniture is backed by a commercial warranty.
Their commercial grade indoor table collection has something for everyone. Allowing patrons to sit back, relax and enjoy their dining experience without the worry of a wobbly table, as ParknPool's table bases are durable and sturdy. Their indoor restaurant chairs and bar stools are classic yet modern, and will perfectly accent any restaurant or café. Choose from wood or metal frames, available with either wood or vinyl seats to create a certain look or match any chosen color scheme.
ParknPool has made it easier than ever to pair a table base with its matching table top. Visit any indoor or outdoor table top and find the appropriate table bases listed in the features and also attached as related products making them easier to find on their website. All of their indoor and outdoor restaurant furniture pieces will soon have updated images, specifications and descriptive features creating more confidence for those that prefer to order online. Never has it been easier to furnish a restaurant, café, yogurt shop or eatery than it is now on ParknPool's website. Their competitive pricing and extensive selection provide clients with a variety of options.
Also find complete restaurant furniture sets under their combo menu options. For more information concerning ParknPool's indoor or outdoor restaurant seating and tables, call 877.777.3700 or email your questions to info[at]parknpool[dot]com.
About ParknPool Corporation:
ParknPool is a Veteran Owned SBE/WBE Company and is the leading online supplier of commercial grade furniture and site amenities such as picnic tables, trash receptacles, park benches, bleachers and playgrounds. ParknPool was founded in 1998 in Orlando, FL and moved their headquarters to Lexington, VA in 2005. http://www.parknpool.com.