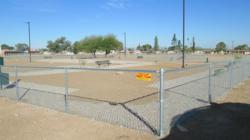 It was great dealing with Soaring Heights Communities in helping to make this project a reality.
Lexington, VA (PRWEB) May 26, 2013
ParknPool, a leading online and catalog distributor of commercial grade furnishings and site amenities such as picnic tables, park benches, trash receptacles, pet waste stations and water fountains, has contributed to the grand opening of PetSmart® Dog Park at Soaring Height Communities, the military family housing community on Davis-Monthan AFB in Arizona. A ribbon cutting ceremony was held on May 23, 2013 to officially open the new park to residents and community members.
The PetSmart® Dog Park features large and small dog areas, watering stations, benches, and trash receptacles. The three-quarters of an acre, fenced-park is also sustainable with native vegetation and ground cover, which require minimal watering. The park is designed with sustainability, ease of maintenance and Arizona's hot climate in mind. Instead of grass, the park contains specially designed rock formations including a section shaped into a large dog bone. This new dog park, which will be open to anyone with base access, was made possible by the Lend Lease Community Fund and PetSmart®.
The Lend Lease Community Fund is a nonprofit organization that focuses on supporting the Military men and women who live in Lend Lease homes and neighborhoods and the communities where Lend Lease employees work and live. The Lend Lease Community Fund supports growth and development by funding projects that address community challenges in the areas of housing, education, health, economic development and environmental sustainability and create or support programming that improves the quality of life for Military families who sacrifice so much. (http://www.lendlease.com) PetSmart®, for which the park is named, is the largest specialty pet retailer and solutions for the lifetime needs of pets. PetSmart Charities is the leader in granting money to help pets in need, with more than $28 million given in 2012 throughout North America. (http://www.petsmart.com)
"It was great dealing with Soaring Heights Communities in helping to make this project a reality," explained Ryan McClure, a ParknPool account manager, "I look forward to working with them in the future as they continue to make improvements for their military community." In addition to ParknPool's contribution of benches and DOGIPOT pet waste stations, Davis-Monthan AFB's dog park was assisted by other organizations such as, Arizona Trucking, Diggum Excavating, Inc., The Groundskeeper, F&F Electric, and Security Fence of Arizona. For more information on how ParknPool can contribute to the development of your community, call 877.777.3700. (http://www.parknpool.com)
About ParknPool Corporation:
ParknPool is a Veteran Owned SBE/WBE Company and is the leading online supplier of commercial grade furniture and site amenities such as picnic tables, trash receptacles, park benches, bleachers and playgrounds. ParknPool was founded in 1998 in Orlando, FL and moved their headquarters to Lexington, VA in 2005.