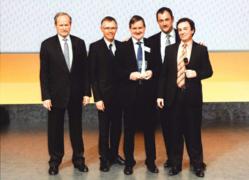 (PRWEB UK) 3 May 2012
Park's Renault, part of Park's Motor Group, has been awarded Dealer of the Year 2011 at Renault's World Dealer of the Year Event in Paris. Receiving recognition for customer excellence, the dealer was presented with the award at Renault Square Com, opposite the original Renault factory.
Renault representatives from forty-five different countries including Argentina, Brazil, China and Russia gathered at the venue for the event. Park's Renault were given the award by Jerome Stoll (Executive Vice President, Sales and Marketing & Light Commercial Vehicles - Chairman of Europe Region), Carlos Tavares (Chief Operating Officer), Francois Ruppli (Sales Networks Development Director) and Roland Bouchara [Sales Vice President, Europe Market Area [Germany, Italy, Spain & UK]).
Andy Giles, who attended the event to represent Park's Renault said, "This is a fantastic accolade and one of which we [are] very proud. Providing customer excellence in every area of our business [is] our primary concern and a core pillar of the business.
He added that the award has inspired the business to drive the customer experience to a new level, reaching a wider client base and continuing to provide complete satisfaction to existing customers.
Park's Motor Group was founded by Douglas Park and has been in the motor trade since 1977. Since then, the group has made a name for itself as a dealer of quality vehicles offering great value for money in all segments of the market. Its recognition of the Park's Renault franchise from Renault cements this reputation and enhances the strong platform it has built to deliver excellent service.