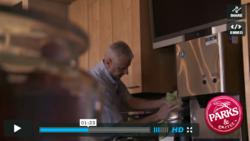 Company founder and president Randy Parks adds, "As it says on the side of our building, we really do 'Strive for Our Customers' Affection'."
Carrollton, TX (PRWEB) April 01, 2013
Parks Coffee (Parks & Co / ProStar Services), a family-owned office coffee service company, has released a new promotional video available for viewing on its and website blog and official Vimeo channel. Click here to watch the video.
The three minute video features members of the Parks family and employees, sharing their thoughts on the importance of customer service in a competitive market. Clay Parks says, "People have a lot of choices: they can go with a big guy, they can go with a small guy, or they can go with ProStar. But we know that they choose us because they know we're gonna be on time, we're gonna give them a fair deal, and we're gonna have people that they can trust in their accounts."
The influence of this Parks family value has trickled down through the company. "We're better because we're customer service friendly," says Parks Coffee employee DeVon Mitchell. "Not only are we gonna provide a service for you; we're going to make sure that when we come to your place, we're gonna offer you more than what you asked for."
Company founder and president Randy Parks adds, "As it says on the side of our building, we really do 'Strive for Our Customers' Affection'." This internal motto was painted on the side of the Parks Coffee main Dallas headquarters in 2009.
Parks Coffee (Parks & Co / ProStar Services) began in the home garage of Randy and Debbie Parks in 1986. The company grew one account at a time, until finally able to purchase a warehouse in Carrollton, Texas, and eventually more branches in other areas. Parks Coffee now has 6 branches total in Dallas, Houston, San Antonio, Austin, Phoenix and Oklahoma City. Since its inception, Parks Coffee has gained ground in the OCS business leaps and bounds. As a market leader in the coffee service industry, Parks Coffee provides brand name products such as Starbucks Seattle's Best, FLAVIA, and Keurig. The company has won such awards as National Automatic Merchandising Association's (NAMA) Coffee Service of the Year award, and Parks Coffee Owner/President Randy Parks has been named National Coffee Service Association's (NCSA) Operator of the Year award and the FLAVIA Outstanding Distributor Award.