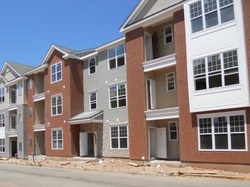 Kaplan's vision was to work with the township of Carteret and preserve the look and feel of this historic neighborhood
Batavia, Illinois (Vocus) September 27, 2010
Parksite, one of the nation's leading building product distributors, congratulates Kaplan Companies for completion of Phase I of the "Gates to Carteret" urban revitalization project in the borough of Carteret, New Jersey. Parksite was instrumental in providing Kaplan Companies with educational guidance as well as products from Nichiha and DuPont™ Tyvek®.
"Gateway at Carteret" is located on 8.5 acres in the heart of Carteret. The $50 million project is designed to be a walk-able neighborhood that will soon include a small commercial district. Kaplan's first phase includes 130 one- and two-bedroom rental units.
"Kaplan's vision was to work with the township of Carteret and preserve the look and feel of this historic neighborhood," said Jay Franklin, president of Kaplan Companies. "Our goal is to build a quality residential area that is eco-friendly and a premier example of innovative urban revitalization. We are pleased with Phase I and look forward to completing Phase II in the near future."
Kaplan chose to use Nichiha fiber cement brick paneling for the front of the buildings. The Nichiha panels were easy and quick to install. As a result, Kaplan was able to avoid closing busy sidewalks for long periods of time. Nichiha panels don't rot, crack or split, and can withstand even the harshest weather. The Nichiha panels proved to be the perfect solution as well as a good, long-term investment.
Kaplan used DuPont™ Tyvek® weatherization systems for its buildings. The Tyvek weather barrier offers weather protection, moisture management and durability, which was important behind the Nichiha brick façade. DuPont's RoofLiner provides superior tear resistance and protection against roof leaks. DuPont's flashings products help prevent damage due to water finding its way around window and door openings.
"'Gateway at Carteret' was a terrific opportunity in which to offer Parksite's expertise and quality products," said Scott Thomas, Parksite's marketing director. "The historic Chrome section, of Carteret, had fallen into classic urban blight. Kaplan Companies wanted to not only create a safe, attractive neighborhood but also build it with quality products known for value, eco-friendliness and longevity."
Parksite representatives have vast product and product installation knowledge that is shared with its partners in contracting and architecture. As a construction and implementation partner, Parksite's goal is to build relationships, provide expertise on the products it sells and create new business opportunities that benefit its customers. "When a prominent organization like Kaplan Companies completes a successful project like Gateway at Carteret, we feel a sense of achievement, too," said Thomas. "Through our product offerings and industry expertise we believe we have provided quality and value not only to Kaplan but also to the people who will live in the new neighborhood."
Parksite is a sales, marketing and distribution organization headquartered in Batavia, IL. Parksite offers specialized products, training and value-added services to market segments within the building industry. Nationally, Parksite has 12 locations and over 250 employee-owners. More information about Parksite and its products is available at http://www.parksite.com.
# # #