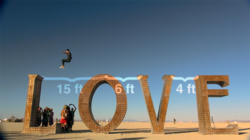 Parkour is the answer. It's the most direct path we know of to reconnect with our creativity, physicality, & each other.
Miami, Florida (PRWEB) May 17, 2012
In this latest feature, Parkulture meets Cedric Dahl, a talented young film-maker, who with a hand-full of cash and five talented freerunner, managed to decrypt the mysterious world of parkour and freerunning, exposing its soul in a multi-sensory feast called "People in Motion".
"Our goal at Parkulture is to educate and support the pakour and freerunning community in any way we can," explains Rock Nakajima, co-founder of Parkulture. "As soon as we heard of Cedric's project we knew it would become a defining piece in the young history of parkour and freerunning in the USA. The result is a visual masterpiece that gets to the heart of the disciplines."
The 45 minute documentary was supported by a crowd-sourcing effort via Kickstarter. Featured in the piece are freerunners Paul Whitecotton, Lonnie Tisdale, Brian Orosco, David Agajanian, & Jacob Siel as they travel from San Diego to Burning Man in the Northern Nevada desert. "Training at Burning Man was definitely an event we'll never forget," says Cedric. "Being in the dessert, in the middle of nowhere, surrounded by 50,000 creative people, training on some of the most unusual structures we'd ever seen. It's hard to forget that kind of experience."
The documentary is available for download at peopleinmotionmovie.com. Viewers can pay whatever they want to download the movie.
Read the entire Cedric Dahl interview at parkulture.com.
Parkulture LLC is a Florida based international public benefit organization, with over a quarter million members, dedicated to the comprehensive development of parkour and freerunning at an amateur level. It is also the organizer of the Cross Urban Scramble and Parkulture Festival, the first international amateur competition.