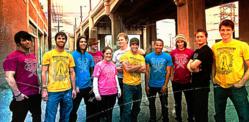 Miami, Florida (PRWEB) April 16, 2012
In this Parkulture Team Spotlight, the editorial team goes one-on-one with all eleven members of Team Tempest and discovers what makes this group of friends, business associates and professional athletes unique.
"I reached out to Brian a while back to see if he would be interested in being a judge for the Cross Urban Scramble," says Roch Nakajima, co-founder of Parkulture. "I was immediately taken how nice and genuine he and his whole team are. I really wanted our editorial team to do a story on them and showcase this fact."
In this edition, readers get an up-close and personal look at all the members of Team Tempest. From picking on the only woman on the team, Luci Romberg to idolizing Brian Orosco's mustache, readers get an uncensored look at life in Team Tempest.
To read the entire interview and Team Spotlight visit this link. http://parkulture.com/2012/04/14/pk-spotlight-tempest-parkour-and-freerunning-takes-the-city-of-angels-by-storm/
Parkulture LLC is a Florida based international public benefit organization, with over 250,000 members, dedicated to the comprehensive development of parkour and freerunning at an amateur level. It is also the organizer of the Cross Urban Scramble and Parkulture Festival, the first international amateur competition.