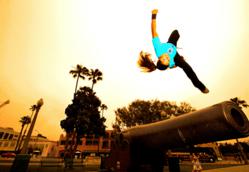 "From 10 to 30 years old, these women are and will be defining the sport for years to come.
Miami, Florida (PRWEB) February 22, 2012
Parkour and Freerunning are taking the global sports scene by storm. A mixture of running and acrobatic movements choreographed to help a body move swiftly and efficiently through urban and natural environment, Parkour and Freerunning has been regarded as the domain of boys and men. This is changing. Women and young girls are embracing this sport. "Women often have the advantage of gymnastics and dance training," says Adrian Gonzalez, co-founder of Parkulture. "They understand quickly the aspect of flow in our sport. Its a natural elegance in movement that many male practitioners find hard to grasp."
Parkulture reaches out to five amazing women for this feature article. From world famous professional stunt woman and permanent member of California's Team Tempest, Luci Romberg to 10 year old internet sensation Britney Jaculina, the article tells the story of how women and young girls are making their mark in the sport. "We wanted to get a global perspective so we not only reached out to US based talent like Erica Madrid of Apex Movement, but also Pamela Obiniana from Austria's Ape Connection and Charlène Léglise from France's Pink Parkour Association," explains Adrian. "From 10 to 30 years old, these women are and will be defining the sport for years to come."
To read the entire interview visit this link.
Parkulture LLC is a Florida based international public benefit organization, with over 130,000 members, dedicated to the comprehensive development of parkour and freerunning at an amateur level. It is also the organizer of the Cross Urban Scramble and Parkulture Festival, the first international amateur competition.
###