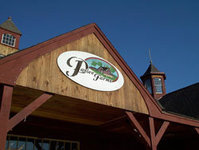 Tyngsboro, MA (PRWEB) June 12, 2013
Parlee Farms, a Boston area family farm, officially opened for the 2013 picking season on June 12th.
"After a long winter, I'm excited that the farm will be opening on Wednesday, June 12th for the start of strawberry season! We expect to have a great crop this year and are looking forward to seeing all of our loyal customers in addition to newcomers. This will be our 26th season of providing locally grown fruits, flowers, and vegetables that are available for picking," said Ellen Parlee, owner of Parlee Farms.
Parlee Farms operates from early June through October each year and is a popular family destination in New England during those months. Fresh fruit that is available for picking at different times throughout the season include apples, blueberries, strawberries, cherries, peaches and nectarines. In the fall, pumpkins are also available for picking.
Strawberries are the first fruit available each season. Customers can go strawberry picking or choose from a selection that is already fresh picked in the farm stand. The Parlee Farms strawberry fields cover over eight acres. Eight varieties, including the traditional New England varieties known as "June Bearers," are available for picking from early June until mid-July. Two varieties of late season strawberries are available as fresh picked in the farm stand from mid-August until late September.
In addition to pick-your-own fruit and the farm stand, Parlee Farms offers a number of other attractions for visitors to enjoy. Mary's Country Kitchen, the award winning bakery at Parlee Farms, offers tasty treats related to each picking season as well as ice cream. Many of the bakery items are made from scratch using fruits from the farm. Popular items include Old-Fashioned Strawberry Shortcake during strawberry season and apple cider donuts, warm apple crisp, and hot apple cider during the fall.
Annie's Animal Barns is another popular attraction at Parlee Farms, which has two barns filled with young farm animals to feed and pet including baby goats, sheep, chickens, and bunnies. The main attraction is "Annie's Goats in the Trees," which is a fabulous goat walk where visitors can send goat food to the top platform to feed the goats.
In the fall, the focal point for family fun at Parlee Farms is the Hay Play Area which is constructed with over 200 large, round bales in early September. Visitors can walk around on top of the hay, make small jumps from one bale to another, and weave through the maze of bales.
To learn more about Parlee Farms and to find out what fruit is currently available for picking, please visit http://parleefarms.com. Picking conditions change daily, so always check what is available before leaving home.