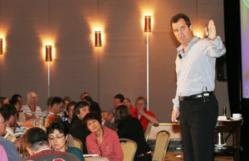 All Australians need to understand how they can become involved in real estate investment
(PRWEB) July 31, 2012
In a move designed to share his How To Buy A House For A Dollar property investment strategies to a wider Australian audience, Rick Otton is to hold a one day seminar in both Preston, Victoria, and Parramatta in NSW. The specially designed property investment seminar for Aussies will teach participants how to begin investing in real estate, regardless of their financial situation.
Announcing the two new venues, Mr Otton said:
"Early bookings show that our Melbourne, Sydney and Brisbane seminars are approaching capacity, and we want to make attendance as comfortable as possible for everyone. By removing the considerable travel time involved for those in Western Sydney and Northern Melbourne, we are doing this."
"I'm certain that these free seminars will be vital for those with easy access to the Parramatta and Preston areas who want a solid foundation in property investing for beginners" said Mr Otton. "My strategies are meant to be shared, which was the reason behind the publication this year of my book 'How To Buy A House For A Dollar', and these free real estate investment training sessions take this a step forward."
David Siacci, a train driver and student of Mr Otton from Victoria encourages anyone with an interest in real estate investing to attend. He shared his experience with the strategies taught, saying "As a train driver I had to work a whole year to earn $64,000. Using Rick's system, we received $43,000 upfront profit, and $93,000 backend profit in 5 weeks."
Preston and Parramatta are transport and social hubs, and were selected because of the property development opportunities that are available in those areas.
"All Australians need to understand how they can become involved in real estate investment - the power that this knowledge provides should not be limited to the capital cities" explained Mr Otton. "Anyone wanting to sell a property or buy one in these challenging economic times, should attend one of these free seminars - they will be full of 'a-ha' moments."
The Parramatta property investing workshop is being held on August 16, and the Preston event on August 19, 2012.
Details of these, and the Sydney, Melbourne and Brisbane real estate investing training events can be found at HowToBuyAHouseForADollar.com/register
About Rick Otton
For more than 20 years, Rick Otton has been identifying undervalued assets in the real estate market, snatching them up and selling them to build wealth. Otton is the founder and CEO of We Buy Houses, an innovative property firm that has been successfully employing his strategies in the U.S., U.K., Australia and New Zealand.
Otton formulated his strategy in the early 90s and within his first year of real estate investing acquired a portfolio of more than 75 properties. Since then, Otton has made millions in the real estate market, generating huge profits with little risk to his own capital.
Today, Otton is teaching Aussies how to enjoy the same success he has had, buying and selling residential real estate without the debt, risk and reliance on bankers that plague many conventional real estate investors.
Otton has been featured on a variety of Australian TV shows, including an ABC documentary, Today Tonight, A Current Affair and Insight. In 2007, Otton was featured on Channel 9's Hot Property, and gave away a home.
In addition to his television appearances, Otton has also been profiled in publications such as Australian Property Investor, Lifestyle Trader and Your Property Network, among others.
You can learn more about Otton and his innovative investment strategies by visiting http://www.rickotton.com.
Details of Mr Otton's free one day training events can be found at HowToBuyAHouseForADollar.com/register