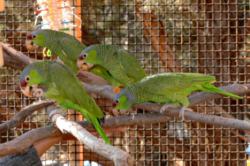 Parrots may be the third most popular pet in the country, but unlike dogs and cats that have been domesticated for thousands of years, parrots are only (at best) a couple of generations out of the wild.
Kanab, UT (PRWEB) October 03, 2011
It's a mathematical powder keg: skyrocketing number of parrots in the United States, plus their long lifespan, plus a lack of knowledge on how to keep these birds happy and well-adjusted. It all adds up to a looming crisis for the animal rescue community, says national animal welfare organization [Best Friends Animal Society®.
Experts say the number of owned parrots, including cockatoos and macaws, soared 417 percent in the last 20 years from 11.6 million in 1990, to 40 million in 2006, and to 60 million in 2010. There could be as many as 100 million captive parrots by 2020, Best Friends experts predict. The estimated numbers were based on population forecasts, number of birds bred, and life expectancy of parrots, collected from a number of organizations including the Pet Industry Joint Advisory Council, the Journal of the American Veterinary Medical Association, and the Avian Welfare Coalition site.
"To those who rescue parrots, the entire situation is concerning to say the least," says Jacqueline Johnson, manager of the Parrot Garden, home to about 100 of the large birds at Best Friends Animal Sanctuary. "Parrots already average seven to 11 homes in their lifetime. Since many parrots have the life span of humans, re-homing is inevitable."
Additionally, says Johnson, there are literally hundreds of thousands of parrots that already have been rescued by the approximately 100 established parrot sanctuaries and thousands of smaller rescues in the U.S., each housing an average of 100 to 2,000 parrots.
"People generally are not equipped to provide for parrots' emotional, social and physical needs over their entire lifetime, and it is common for the birds to outlive their owners," Johnson said. "We have every reason to believe the sharp increase in the number of owned parrots will cause an equally sharp increase in the number of homeless pet parrots," Johnson said.
Wendy Hatchel, veterinary technician at Best Friends, says the tragedy is compounded because "parrots may be the third most popular pet in the country, but unlike dogs and cats that have been domesticated for thousands of years, parrots are only (at best) a couple of generations out of the wild.
"These highly intelligent birds really deserve to live in flocks," Hatchel said, "but we have made that impossible for most pet birds to ever experience because they didn't grow up as part of a flock.
"Unfortunately a high percentage of parrots show the damage of being in captivity without proper diet and stimulation, suffering from feather plucking, self-mutilation and other behavioral issues, all of which make it more challenging to find new adoptive homes for the thousands who land in rescue," Hatchel said.
You can be part of the solution:
Johnson said that people can make a difference for parrots and urges the public to get educated about the birds' plight so they can advocate on their behalf.
"Parrots are living beings, but in the bird trade they are nothing more than a commodity. It's all about the thousands of dollars each one brings," Hatchel said.
Johnson said people can help by organizing local campaigns and picket lines against the sale of birds in pet stores. There are bird mills, just like puppy mills that supply parrots to pet stores.
"Support parrot sanctuaries and rescues, especially any close to you," Johnson said. "Sanctuaries like the one run by Best Friends Animal Society are a home between homes for many parrots who are merely looking for care and healing while awaiting a new home. Through education and advocacy of the general public and the understanding of standards of care for these captive birds we are able to make a difference one by one," Johnson said.
Steps the general public can take to help parrots:

Volunteer at your local parrot sanctuary.
Support your local sanctuaries with donations; even small amounts add up.
Educate friends about the plight of parrots and encourage them to get involved
Support and join Best Friends Animal Society's work at the Parrot Garden
Become a foster home for a homeless parrot
Be an advocate for a high standard of care for captive parrots.
Never buy parrots. If you know how to provide a good home and want to add a parrot to your family, always adopt from a parrot sanctuary or rescue
Support the World Parrot Trust http://www.parrots.org and The Avian Welfare Coalition http://www.avianwelfare.org: Organizations like these have been working tirelessly to help save the habitat where these birds live and encouraging legislators to push for stricter enforcement of smuggling laws.
Video: Welcome to the Parrot Garden: http://www.youtube.com/watch?v=nA-l96-9Ao0
About Best Friends Animal Society®:
Best Friends Animal Society is a nonprofit organization building no-kill programs and partnerships that will bring about a day when there are No More Homeless Pets®. The society's leading initiatives in animal care and community programs are coordinated from its Kanab, Utah, headquarters, the country's largest no-kill sanctuary. This work is made possible by the personal and financial support of a grassroots network of supporters and community partners across the nation.
To become a fan of Best Friends Animal Society on Facebook: http://www.facebook.com/bestfriendsanimalsociety
To follow Best Friends on Twitter: http://twitter.com/BFAS
# # #