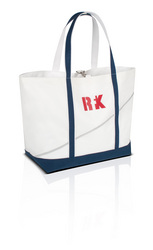 "Thank you Parrott Canvas for the beautiful custom tote bags."
Hyannis Port, MA (PRWEB) December 17, 2009
Parrott Canvas is proud to have donated custom tote bags to the 20th Annual Robert F. Kennedy Center for Justice and Human Rights Golf Tournament hosted by Mrs. Robert F. Kennedy at the Hyannisport Golf Club in Hyannis Port, Massachusetts. The event is attended by such celebrities as Martin Sheen, Dan Aykroyd, Alec Baldwin, Randy Quaid and many more.
Parrott Canvas, based in Greenville, North Carolina, has been involved in many charity events and was more than happy to donate over 200 custom tote bags to this high profile event. The annual charity golf tournament raises money and awareness for issues close to Robert Kennedy's heart including human rights and the environment, child slavery, worker's rights, the landless movement and the right to health. Held annually in Hyannis Port, MA the weekend long golf tournament is hosted by Mrs. Robert F. Kennedy and is attended by mega celebrities such as Ethel Kennedy, Bill Murray, Matt McCoy, Rafer Johnson, Bobby Orr, and Jim Wooten. Parrott Canvas is not new to the celebrity scene; their bags have been featured at parties for Lindsay Lohan, Access Hollywood Host Nancy O'Dell and TV Star Ali Landry. Parrott Canvas is proud to offer custom tote bags, monogram totes, handbags and much more direct to the public at their website http://www.parrottcanvas.net. Parrott Canvas is also proud to offer free standard shipping on internet placed orders over $50. To find out more please visit Parrott Canvas.
About Parrott Canvas:
Parrott Canvas is a high quality bag designer and manufacturer specializing in different types of bags for corporate promotions, special events, regattas, sports tournaments, catalog merchants, retailers, and the entertainment industry. Proudly made in the USA (Greenville, NC) our unique designs are made with top quality fabrics, zippers, and fastens and are known for their unsurpassed durability. Parrott Canvas bags can be customized and bought at http://www.parrottcanvas.net
# # #