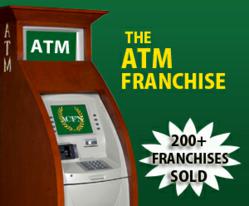 The Yellowstone portfolio is generating an annual net income of $53,713
San Jose CA (PRWEB) August 01, 2012
In a recent announcement on http://www.theatmfranchise.com, ACFN, American Consumer Financial Network, published the availability of an established ATM portfolio in the Wyoming/Yellowstone Park region. This ATM portfolio includes well established ATM locations that can be managed on a part time basis.
ACFN has currently multiple established ATM routes for sale in areas such as Montana, Tennessee, Connecticut, Alabama, New Hampshire, Idaho, Washington state and Florida. However, the Yellowstone ATM route is especially attractive due to its revenue and profitability. "The Yellowstone portfolio is generating an annual net income of $53,713," stated Turker Sus, Franchise Development Manager with ACFN. This kind of bottom line is especially attractive for those looking for a part time passive income.
Why should one consider getting into an ATM Franchise business? "An ATM business requires no employees and carries no overhead. Furthermore, one can operate the entire Yellowstone route working one day a week", explains Avi Blankroth, Executive Vice President with ACFN. Operating your own ATM route does not require you to have an office, hire employees, spend time finding leads or negotiate contracts - ACFN does all that for you.
ACFN offers a complete turnkey system for individuals looking to generate a full time income - working a few hours a week.
To learn more about the Yellowstone ATM Route as well as other established ATM portfolios visit the ATM route for sale website.
About ACFN:
ACFN is a premier deployer of ATMs in hotels and other travel and entertainment based businesses since 1996. We franchised in 2003 and have since been recognized as one of the top franchise companies by many publications including the prestigious Entrepreneur Franchise 500, Inc. Magazine, Franchise Times, Military Times Best Franchises for Vets and AllBusiness.com Learn About Existing ATM Routes or Call us at 1 (888)-444-2236