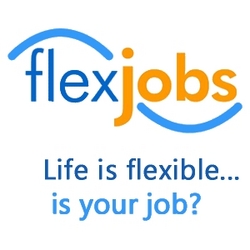 Boulder, CO (Vocus) September 3, 2010
FlexJobs, the leading online job service for telecommuting job listings, has announced that it has expanded its offerings beyond telecommuting jobs to also include career-oriented part-time, freelance, and flexible schedule jobs
"We expanded the FlexJobs service beyond telecommuting jobs because we believe that professional part-time jobs are an underserved part of the job market. People were coming to us asking us to offer the same top notch service we were providing for telecommuting job listings for career-oriented professional jobs with flexible and part-time schedules. This request aligned with our mission of providing a service that helps people find the 'needle in the haystack' quality jobs that also offer a better work-life balance," said Sara Sutton Fell, CEO of FlexJobs.
FlexJobs, a member of the Better Business Bureau, offers job-seekers a valuable service in saving its members an extraordinary amount of time and aggravation by researching and aggregating job listings that are dispersed across thousands of websites and putting the information at their fingertips in one ad-free website. FlexJobs trained researcher staff performs an unmatched level of quality control on job leads market because its primary clients are the job-seekers, not advertisers or even employers.
In celebration of this new expansion into the part-time job and flexible job market, FlexJobs is offering special savings for Labor Day Weekend, Friday through Monday. Job-seekers can try FlexJobs for a month for just $5.00 with the promo code "FALL" -- 67% off the the regular price of $14.95!
The types of part-time jobs and flexible jobs currently listed on FlexJobs include a wide range of over 50 career categories, from professions such as Psychology to Physical Therapy to Scientific Research and more. Jobs also range from entry-level to executive, and freelance to full-time, and while mostly US-based, there are also job opportunities in Canada and internationally.
About FlexJobs
FlexJobs is the leading online service for flexible, part-time, telecommuting, and freelance job listings. Flexjobs gives job-seekers a way to find legitimate, hand-screened jobs quickly, easily, and safely. A member of the Better Business Bureau, FlexJobs screens out online scams and anonymous employers in order to deliver users the best of the best flexible schedule and telecommuting job opportunities in an easy to search, ad-free website. FlexJobs is a free resource for employers to source, screen, and recruit top-notch candidates for telecommuting and flexible jobs. Learn more about FlexJobs at flexjobs.com
###